11.01.2013 | 15:31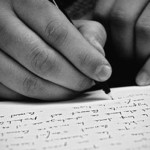 "They menaced my mother and told that if she will not kill herself with electric flow, then they will kill me"Due to the information of AzerTac, KarabakhInfo.com notes that, 14 year old Armenian citizen David Davtyan again asked for help from Azerbaijan. A boy who cannot avoid lawlessness and tyranny in his country, tells about the terrible things which Armenian governing organs did to him and his family members, in his letter to AzerTac.
He tells in the letter:
" I am David Davtyan live as a captive in Icevan city of Armenian Republic with my family. My mother and I wait for February to leave home, only then we will have a right to go out of the country. All our familiars and relatives are forbidden to come to us. Some of them moves from Armenia and took political refuge in other country because of the pursuits. The only man who we were allowed to have relationship was our driver. But 4 men in masks came to our home and violated us by his hand. They beat my 85 year old grandmother. Now my grandmother cannot stand she is bed sick. They beat my mother's head so much that her see ability is weakened. They beat my poor aunt's head too. Now my aunt cries all time and no medicine helps her. They knocked down me on the floor. And those lanky fellows who had 100 kg began to walk on me. They beat us and took everything from home. I am 14. During this year thievish attacked to our home three times. Last it was unbelievable. It was organized plan by our "great statesman" and I sure they will never investigate that work. The next day they dropped letter to our home. They menaced my mother and told that if she will not kill herself with electric flow, then they will kill me. We do not understand what this state want from us. Their culture and tastes are different to us and this "culture" makes us feel horror. I cannot sleep at nights. When we do any mistake we apologize. But in this "cultural" country they kill instead of apologize and avoid the responsibility. We are afraid of this state. Let them be great, but us bad. That is why we are afraid of them and asks for help from you, help us please.   I see that the world is helpless in front of Armenian state. I ask you, help us, have a talk with this Armenian "geniuses", let them even shot at us. We cannot bear the death sentence, violence, menaces of Armenians. HELP US!!"
Want to note that, David Davtyan before asked for help from Azerbaijan too. He asked for help in his letter named "Armenian fascism kills people and world is silence!". He asks to help them move from Armenia to another country. He says that "Armenian fascism kills from hunger".
KarabakhINFO.com