20.11.2014 | 12:33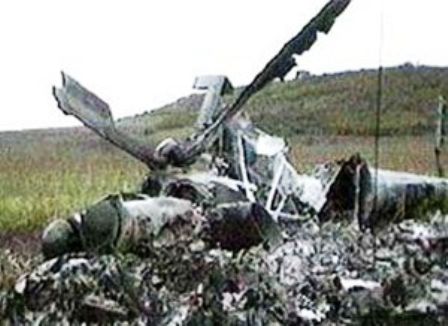 Garakend tragedy – It is tragic event of military helicopter was shot by militarized Armenian troop near the Garakend village of Khojavend region, in the territory of Merzili village of Agdham region on November 20, 1991.
It is estimated that MI-8 N72 helicopter flying an altitude of three hundred meters over Garakend was shot at 14:42, on 20 November, 1991. Presidential office got preliminary information about the tragedy at 19:55. It is interesting fact that news about this tragedy broadcasted in "Homeland and citizen" news section in Armenian language from Khankendi at 15:30. On the same day Yeravan radio announced this news at 16:15, Tehran and Moscow radios at 17:00.
At first, the official version called out: A helicopter crashed rocks in foggy weather. But a few days later it was admitted that helicopter had been shot. It took a few years to remove all doubts and to announce hitting Mi-8 by Armenian rocket. However, there were too many " white spots" on the date of the last flight of Mi-8. It is still unknown why did not armed guards helicopters accompany Mi-8 helicopter carrying the Secretary of State and Minister of Internal Affairs, the General Attorney, a number of senior officials and president's press secretary, flying over the zone of military operations, flying over the zone of military operations? Why were all of them at the same helicopter? This fact is against all possible and impossible security rules.
It was known as a result of investigation that Mi-8 72 military helicopter was shot down by American-made Barret arm M82A1 ( there was united uranium isotope U-238 within arm).
It is possible to pull down at a distance of 2 km flying planes, helicopters and also armored vehicles with this 50 caliber within nuclear sniper arm. This weapon having the name in the list of the US Congress is considered as mass destruction arm.
When arm hits the mark it makes strong fire firstly. It is called "nuclear fire". For hitting of dissemination of fire the remains of the object are able to thrown about 500-600 meters.
Totally, 22 people were killed as a result of the accident:
– Tofig Ismailov Kazim oglu – Secretary of State, Azerbaijan
– Ismat Gayibov Ismayil oglu – Public Prosecutor General, Azerbaijan
– Mahammad Asadov Nabi oglu – State Advisor, Azerbaijan
– Zulfi Hajiyev Saleh oglu – Deputy Prime Minister, Azerbaijan
– Vagif Jafarov Jafar oglu – Member of Parliament, Azerbaijan
– Vali Mammadov Huseyn oglu – Member of Parliament, Azerbaijan
– Osman Mirzayev Mirza Huseyn oglu – Head of Presidential Administration, Azerbaijan
– Gurban Namazaliyev Huseyn oglu – Deputy Prime Minister of -Amelioration and Water Management, Azerbaijan
– Igor Aleksandrovich Plavski – Public Prosecutor of Nagorno-Karabakh Autonomous Oblast (NKAO), Azerbaijan
– Vladimir Vladimirovich Kovalyov – Head of Ministry of Internal Affairs of NKAO, Azerbaijan
– Sergey Semyonovich Ivanov – Head of department of National Security Ministry, NKAO, Azerbaijan
– Nikolay Vladimirovich Jinkin – Commandant for Emergency Situations of NKAO, Azerbaijan
– Sanlal Dasumovich Serikov – Deputy Minister of Internal Affairs, Kazakhstan
– Mikhail Dmitriyevich Lukashov- MVD, Major General, Russia
– Oleg Nikolayevich Kocherev – MVD, Lieutenant Colonel, Russia
– Rafig Mammadov Mammad oglu – Aide to Secretary of State, Azerbaijan
– Ali Mustafayev Mustafa oglu – Journalist, Azerbaijani State TV[9]
– Arif Huseynzadeh Ismail oglu – Lights technician, Azerbaijani State TV
– Fakhraddin Shahbazov Ibrahim oglu – Cameraman, Azerbaijani State TV
– Vyacheslav Vladimirovich Kotov – Commander of helicopter crew
– Gennadiy Vladimirovich Domov – Member of the helicopter crew
– Dmitry Borisovich Yarovenko – Member of the helicopter crew
"KarabakhİNFO.com"