27.03.2017 | 15:54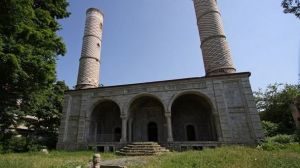 Armenia has begun excavations at Govhar Agha Mosque, referred to as Persian Upper Mosque by Armenians, in the occupied Azerbaijani city of Shusha, APAreported citing Armenpress.
The excavation work is being carried out by the Revival of eastern historic legacy foundation.
According to Marat Shahramanyan, director of the State Service of Historic Environment Protection SNCO, the excavation will last for 20-25 days.
He noted that the excavations are being carried out by Nzdeh Yeranyan's team.
"There was no need for foreign experts for excavating the monument. This monument was damaged by both the war and weather conditions", he added.
The mosque was built in 1768 upon the order of Ibrahim Khan of Garabagh. However, the construction came to a halt afterwards but was completed in 1883 with the aid of Karbalai Safi Khan Garabaghi.
There was a history-archeology museum at the mosque during the Soviet Era. After Azerbaijan became independent, the mosque reopened to the public.
Apa.az