13.09.2012 | 11:14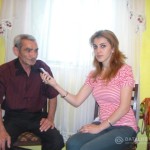 Huseynov Kamil, Dadash was born in 1953 in the Khodjali region. He remained as a captive during 6 months and 25 days period. * Please share with us something. How had happened all these things? * It is hard to share those feelings. I feel like choking with excitement, while speaking about them. It was snowy and stormy winter night. Darkness. Being of storm, we couldn't able to see anything. Armenians attacked to Khodjali from all sides, by tanks. We were unarmed.
We were managed only to axes, pitcforks, hooks and a few fowling-pieces. Head of the city was ordered to all youngs and men to bring together, to fight till the last drop of blood and to keep women, oldies and children in the cellar in order to preserve them and just waiting fot additional help. We were waiting for a lot. But no one has came to help us. Even after people saw that they were burning all lands, people felt really disappointed. Being of hopeless situation we had to run to the forest. It was winter, freezing weather, we couldn't able to walk. Suddenly I realized that there weren't my wife and children among people. I thought that, may be they were hide themselves in another place. Then, though all resistances I heve returned to home. When I saw that there was no one in house felt disappointed. I looked at the houses of neighbours and relatives too. They were empty. As if they were going to somewhere as a guest, and will come back soon. I have changed my dresses, took a few things and left for the house. I wanted to burn my house, but I couldn't. I have built it with my own hands. I have opened the door of stall, that cattle to run. When I want to leave, I saw that armenians were came nearer to our house. We have 25-30 meter distance between us. One of them saw me, and said in armenian to other that look there is someone there, and they began to fired at me. The corner of our house was not flat, so I was able to hide. They couldn't manage to shot me. I ran to the forest. I reached the way that people were crossing. But there were no one. I went with their footprints a lot. There were 2-3 ill and old people, who couldn't walk. I helped them too and we were contuning to go. But I couldn't find the way that people go. Besides I was unaware of my family. Everywhere was covered with snow and ice. 3 days we stayed in the forest as hungry and thirsty.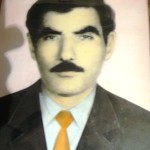 We were swearing, notwithstanding the weather was freezing. Now we were 120-130 people. Some of them were escaping from fires, some of them were stayed behind from the row. We stayed 3 days in the forest. Armenians make posts on the all possible roads, that people can cross. When we wanted to pass to Gulabli village of Aghdam, there started skirmish. Some people were killed, some of them could manged to run. But we were captured by Armenians, near the Dahraz village. They kept us there as captives 3 days more. We were approximately 50-60. They had selected 12-13 tall or stately men among from us. Still we haven't any news about them if they are living now or were killed. Who knows? Then they have seperated 19 peoples, I was among in them. They took everything from our pockets and even our dresses, we were naked. They conveyed all women and children near the Abdal-Gulabli village. They have mounted us to "KAMAZ" too. They said that there were two Azeris and 21 Armenian captives there. They will just exchange us. We went, but they brought us to prison. We saw that there was too much Azeris there, not only two. One week ago from us, there was mass killing in the Khodjavend, and most of these people are from there. 12-13 people were kept in the same cloak-room. Even there was not any window. Cold weather was passed the room through the large holes of floor. Hunger, thirsty, freezing weather and to be beaten. If any armenian was killed during the skrimish, then they began to beat us, as if they wanted to calm their anger. 5 people started to beat 1 person. I could realize their coming from their voices and I was saying to people that "be ready, they ae coming again'. While talking I feel really bad. I have suffered torments a lot during that 6 months and 25 days. How they can do such a savagery?! Still when I am talking about this, I am going to be mad. All our day was spending with beating and swearing by them. They didn't give us a piece of bread during those 6 months and 25 days. Those vandals, even didn't give us water. Little Armenian children were brought to us. By indicating us to them they said to those children: " look they are last representatives of Turks. No more you will see any Turk or Muslim. They are our violent enemy". Usually our faces were unshavened. They burned the paper and gave to children that scroching our beards. If we dont let them, they beat us with the butt the riffle or with buldgeons that dont hurt children, let them do it. They hauled away by tongs. When they pulled out our teeth, they pulled out with its palates too. My 12 teeth were pulled out by them. Still I can't use denture normally. Though I passed from 3 operations, still my health doesn't satisfactory. After 12 days they gave us bread, But we couldn't ate. Some of us died for thirsty and hunger. But we couldn't do anything for them. At the end we were only 7-8 in the cloak-room. They gave a case of water to all of us. People came from the International Red Cross Organization. They were interested in our situation, asked how we are?. But we couldn't said anything because of fear. Their translators was also Armenian. Even if we said negative answer, they would never translate them. Actually they were understand the situation. One of them said that open your mouth. When we opened, they could saw the signs of tortures. They shook their heads and went. After 3 days, they gave us shabby blanket. We considered it as if dense matress. Then they began to exchange captives. They took some of us to beat. There were two people in the cloak-room, who managed to stand up. They were Yusif and me. Others even couldn't walk. They took us and said that if we will have relatives who can find their brothers and can exchange us. I said if someone survive from our relatives, perhaps they would find and change. Their brothers were arrested by the late Ismet Gayibov. They were might be in Nakchivan. We were sit on the car. We would go to Yerevan, then Georgia. They were writing letter to us. I wrote a letter to my father-in-law that, if my brother still alive, deliver it to him to find armenians and exchange us with them. My father-in-law himself was the old man. It is hard to find them for him. Besides my brother was educated, he graduated the school. At that times, late Haydar Aliyev was in Nakchivan Supreme Soviet. They approached to him and explained the situation. And he was engaged in this problem, and defined that a few days ago these people were carried away to Baku, Shuvelean. When they reached to Shuvelan, people said that there was a shepherd, who had lost their sons during the "Dashalti" military operation. That man carried them away. Anyway, they could be able to find that man. But this man didn't want to give back them. They were pleased him at last. During this period we were kept in the cellar of one Armenian. No more they tortured us. They gave us water, bread and sometimes cigarette. The name of the man who brings cigarette was Serjik. I asked him that if our relatives couldn't find your brothers, what would be happen with us? He thought a lot and answered that if they were alive you will be alive, if they were killed you will be killed, too. If I am not mistaken it was 2nd or 3rd of May. We heard thundering voice in the cellar. The explosion was so strong that windows were broken. We thought that if someone die in this explosion, they will kill us too. After two hours someone came and asked: "Ara Kamil, are you ok?" I said yes. We asked for Serjik that, what was it? He said that armenians fired to here, instead of your lands. But we got that it was not true. Again I couldn't rememeber well, it was 9th or 10th of May. There was a lot ballyhoo in the city. I asked what was happened? What was this voice? He said don't you know that Armenians occupied Shusha. Shusha is ours. I said to Yusif that he did it allegedly, in order to influence us. Could Shusha was captured?! There was only way of Shusha. No one can cross. But, his words were right. Shusha was occupied by Armenians. During thr captivity times, I had no idea about my family or my brother. I knew that someone was negotiating with Serjik. But I didn't know whose brother is he. Mine or Yusif's? I sked for the Serjik, to define with whose brother they are negotioting? Serjik asked but they said that, it doesn't matter. Both of them are our brother. It was found that he was my brother. They carried away us to the house of Serjik's aunt. We stayed 10 days there. At that times, the issue of changing captives was under the responsibility of Eldar Baghirov. But he was killed by mining. Then they carried away us to another place. It was like prison. There was some armenians too. But they didn't do anything to us, Because they knew that we will be exchanged. After a while, Serjik came and said that after 2-3 days we will take you. All our faces were covered by beards, only eyes were seen. They carried us to Gorus the we got in the "QAZ-66". I helped to Seyid. When we reached to border, our people carried him on their arms. But I was walking very depressed and thoughtful. The only thing that I was thinking is my family. Policemen said that, Kamil why are you so sad? Now you are in your own motherland. So my brother were able to broke out of encirclement. One of my daughter was killed and when my wife began to crying besides her, someone made her to stand up, in order not to be taken as captive by armenians. But when she stood up, she was fired by her leg. While gathering the corpses, they realized that someone breathing. She brought dorectly to Baku. 50-60 people of realtives were killed. They were spending really hard times. My wife was kept in the hospital. Firslty doctors wanted amputation, but then someone was appeared and promised that I will cure it. Now I am living in the guneshli sanatorium of Mardakan village, temporarily. It is unknown what will be our future. * What would you say at the end? My words to youth that, dont foget violations, tortures and vandalism done by armenians not only to Khodjali people but also to entire Azerbaijan. This little, coward nation had commited numerous crimes, with the help of their supporters. Each of us should be ready to revenge from armenians. Though I am 60 and not so much healthy now, again I am ready to help soldiers in the military posts or help to wounded people.
Aysel Talibli
"KarabakhİNFO.com"