12.12.2014 | 12:42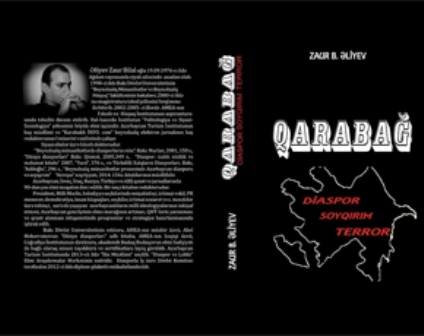 Doctor of Philosophy in Political Science, the senior researcher of Philosophy and Law Institute of the Academy of Sciences of Azerbaijan and the head teacher of Azerbaijan Tourism Institute, Zaur Aliyev's the 7th book named "Karabakh – Diaspora, Genocide and Terror" in the 450-page book was published by Europe publishing house. The author of the preface of the book is the head of Turkish Studies Department of the University of Strasbourg, the European Cultural and Community Center Director Stefan de Tapia, scientific editor Doctor of Philosophy Rena Mirzazade, reviewers First Vice President of the AVCIYA Vali Alibeyov and editor of KarabakhİNFO.com international e-magazine, author Zaur Gariboglu, Chairman of the Swedish friendship Society "Caspian" Leila Kiani. These topics are discussed in the book which was published with the financial support of the international electronic journal of KarabakhİNFO.com and the Association for Civil Society Development. These topics are discussed in the book: The history of Nagorno-Karabakh, the history of occupied territories, Armenian terrorism, Diaspora policy, regional cooperation, Khojali genocide, March 31 genocide, deportation, baseless Armenian claims, Armenian terrorist organizations, policies of the great powers, geopolitics and other issues. Historically, the patronizing attitude of the Russian to Armenians and as a result of this their struggle against Azerbaijanis and even the deportation of Azerbaijanis from their native lands have been explored in the book.

The book presenting to you will explains issues above-mentioned partially. The aim of this book to deliver truth to the world community about two centuries tragedy of Azerbaijani Turks lived in Armenia and tragedy of Azerbaijanis lived in Nagorno-Karabakh and other regions of Azerbaijan.

International legal analysis of the Armenian occupation of Azerbaijani lands is analyzed and the political and historical approaches are shown in the book. The book is based on historical documents, as well as Nagorno-Karabakh conflict with Armenia inciting by Armenian Diaspora, the creation of "Great Armenia" myth, the influence of the West and Russia, the approaches of Iran, Turkey, France's to the problem have been investigated in the book. Attitude to Azerbaijani captivities in Armenia , Armenians terrorists and their evil plans, their cooperation with other terrorist organizations have been investigated detailed there. Activities of Azerbaijani Diaspora, lobbying and cooperation between Turkish Diasporas also were investigated in the book.

It should be noted that the author was born in Agdam. He got his Bachelor and Master degree in Baku State University, at the faculty of "International Relations and International Law, doctoral degree in NASA on political science and international relations. He is author of these books: "The role of Diasporas in international relations." Baku: Nurlan, 2001, 150 p., "World Diasporas" Baku: Kismet, 2005, 349 p., "Diaspora: explanatory dictionary and reference book" 2007, "Yurd", 376 p, "the Turkic Diaspora" Baku, "Adil", 296 p, " Azerbaijani Diaspora and genocide in International Relations process " Baku, "Europe" publishing House, 2014. 156 p. Currently he is deputy chief editor of KarabakhİNFO.com the international journal.

"KarabakhİNFO.com"