26.04.2014 | 07:07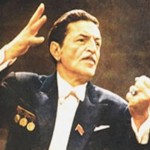 I remember that even in my school years our classrooms were decorated with the portraits of outstanding artists and composers. Among those pictures an image having a different mime, a typical jest and a magic character also attracted my attention. And this is how I met my admirable maestro Niyazi later.It is known that from the very beginning of the last century the important events happened in our cultural history influenced the art of music. That is, a new musicians' generation who had been influenced by U. Hajibeyli school benefited by his traditions and following that way were growing up.
We must properly mention the name of the well-known Niyazi who had a distinguished role in our musical culture with his creative activity among those new generation of composers. Niyazi was a personality who declared the Karabakh, generally Azerbaijan culture to which he belonged, to the whole world.
He was born in 1911 as Uzeyir bey's nephew, but later he became Maestro making Karabakh music tradition, as well as national-classical music formula known to the world. It is known that Niyazi closely contacted with folk singers from early ages. It should properly be mentioned that his communication with his uncle Uzeyir bey, music atmosphere in the family encouraged him to collect folk music and to work it out creatively. As a result of that interest and activity Niyazi became a real inventor of the new stage in the music world.
Mentioning Niyazi we imagine two main sides – conductor Niyazi and composer Niyazi. As it is known to everyone, Niyazi is mentioned as a presenter of most Azerbaijan composers' works, as well as the advocator of the European composers' works in Azerbaijan and abroad. As a composer Niyazi we first imagine and remember the great musical works as "Rast", "Khosrov and Shirin", "Chitra", "Zakatala Suita" , "Lezginka", "Arzu" and so on.
Niyazi was engaged in collecting folk songs and recording them as well as the activity of conducting and composing. In this meaning firstly U. Hajibeyov recorded folk songs, worked them out and published the collection titled "Azerbaijan-Turk folk songs" in 1927 in Azerbaijan together with M. Magomayev. It must be noted that certain songs in the collection were recorded by J. Garyagdioglu performance and some of them were collected by Z. Hajibeyov.
The task of collecting and recording the folklore patterns by Uzeyir bey, Z. Hajibeyov and M. Magomayev was continued by Niyazi in the following years. From this point of view his "Rast" and "Shur" mughams written by J. Garyagdioglu's performance should properly be emphasized. Unfortunately those note recordings haven't been published. As a remarkable point it should be mentioned that, those notes were highly appreciated by U. Hajibeyli. This was the point showing Niyazi's professionalism.
After the appeals to "Rast" mugham it became an activity laboratory for musicians and the great maestro copied the mentioned mugham to notes. In 1949 he returned to this theme again and created "Rast" symphonic mugham.
On that eve he got in touch with Zulfu Adigozelov and wrote the folk song "Elinde sazin gurban" which he performed in "Rast" symphonic mugham. Many young musicians such as A. Zeynalli, G. Garayev, J. Hajiyev, Z. Bagirov, M. S. Ismayilov and others who had been drown to the music cabinet inside the Conservatoire headed by Bulbul in the 1930s visited a member of regions of Azerbaijan and recorded many folk song.
It should be mentioned that Niyazi was also sent to Lenkeran and Masalli regions on a mission. During that period Niyazi recorded a number of folk songs. "Gilas gelir", "Shrinem", "Sonalar", "Sevdim dolana", "Chemene gel, gul oglan", "Choban mahnisi" and others are examples for them. Beside them "Aman nene" and "Dili, dil-dili" ("Ay dili-dili" ) songs' recording is directly associated with Niyazi's name. That is, each of these specimen collected by Niyazi as a great gift for our people.
Niyazi's piano play series based on Talish topics must particularly be mentioned. He used the time of Talish songs which he had collected in those plays.
Besides all of these Niyazi's working the folk songs for firstly sound and symphonic orchestra must be stressed. It is obvious that Niyazi was a great master of orchestra. His folk song works as "Garagile", "Ay beri bax", "Kuchelere su sepmishem", "Xumar oldum", "Sari bulbul", "Gel-gel", "Gulur eller", "Chal oyna" prove it. It should be stated that though these patterns are few in member they have great fictional value. They are valuable firstly because they are the first sound and symphonic orchestra works, and they were created by Niyazi himself. Niyazi achieved new temps and original sounding using the combining of different instruments, solo performance and tutti sounding, at the same time the following of various groups of instruments one another. That is, Niyazi copied these patterns to orchestra language so perfectly that one can't help astonishing. That was the innovation which Niyazi presented the world music treasure.
We are still enjoying those patterns performed by lots of singers, as well as Bulbul, R. Behbudov, Sh. Elekberova, F. Ahmedova, S. Gadimova, M. Magomayev, F. and Kh. Gasimovas and so on. In my opinion if present performers sing these song widely it will be reasonable. Whether you approach it with audience look or from the point of view of art, you'll witness that Maestro Niyazi demonstrates a so-called magic "illusion-music focus" or art miracle while conducting.
The rhythm of his hands, attitude towards the music, artistic skills, jests and mimes belonging to a real creator allow us to state this opinion. In this meaning Niyazi leaving a rich treasure will eternally live in the history of music with his valuable, unique activity.
Fakhri Mamedli
Art-critic – expert
The member of Azerbaijan Artists' Union
The literature used: Rafael Huseynov – A thousand and second night, Baku 1988.