10.09.2013 | 09:24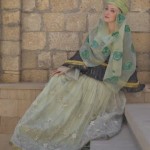 We are presenting you the interview with the vocalist singer Tarana Paris Baku (Tarana Allahverdiyeva).
 –  Mrs. Tarana we would like you to give information about yourself.
 –  I am a singer who is from Azerbaijan, Karabakh and live in France. I was born in Lachin and grew up in Shusha. It has been more than 10 years that I graduated from the university of Sarbon's journalism and communication faculty. Nowadays I am involved into working with my work and I build a cultural bridge between Azerbaijan and France.
–  France is a country where Armenians are very active. Is not it very difficult to live in such a place and fight against Armenians?
–  There is a strong Armenian lobby in France. In spite of all these challenges we should try to introduce Azerbaijan to them and indicate Karabakh truth in France more than other places. I am an artist and my art is my weapon. It is very interesting and valuable fight. Therefore, music has a universal language and it impacts on everyone.
–   Have you ever seen any sabotage made by Armenians against you?

–   No. thanks God, I have not seen such things.
–   How can we juxtapose the power of Armenia and Azerbaijan?
–   I should mention that Azerbaijan has started to introduce itself in France recently. Azerbaijan's Member of Parliament Mehriban Aliyeva and our ambassador in France Elchin Amirbyov worked on this issue a lot.
–   Does Azerbaijan realize sufficient lobby activities?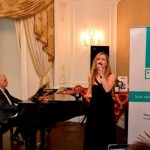 –   It is a very hard question. In my opinion, we should not take our commitments enough. Karabakh is still under invasion. There is little information about Azerbaijan, and there is a lot of work to do.
–   What are you doing with Turkish diaspora about Karabakh?

–   I know that Turkish diaspora actively participated in the meetings about Karabakh.
–   What have you done for unmasking Armenian lies as a person from Karabakh?
–   I have two children. They have two names in their identity card- Ulduza Shusha and Leyli Shusha. I think it is a sign for reviving Karabakh's name. It is something which does not make us forget Karabak, and we will not permit anyone to forget it. The situation in France is very complex. There are many French people whose origins are Armenian. They have never been in Armenia. They have not got any credible data about Karabakh, they know only lies. Some Armenians are working actively and spread false information. I have not heard something about Karabakh war , I was a witness of this war. I am trying to give only real information. Likewise, I am an artist and it is the best diplomatic way for giving true data.

–  When have you been in Shusha last time?
–   As many Shusha people I saw Shusha last time 21 years ago. It is a long time…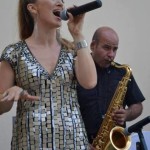 –   What are you doing when you miss the motherland, especially Karabakh?
–   I am sinking in the music, or I write poems. There are several photos and memories from Shusha.
Fuad Huseynzadeh
"KarabakhINFO.com"