13.09.2012 | 11:20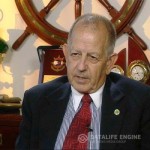 May, 2002 Samuel A. Weems's book named "Armenia: Secrets of Terrorist "Christian" Country" was published and afterwards this book has been translated in Turkish and re-published by "Ireli Yayinlari."
Christian terrorist country The naming of the book like that by Samuel A Weems is a great point in terms of the delivery of Armenian deception just to USA. As you know the words of "terror" and "Islam" are used as the same phrase in the West. By realizing the first, Samuel A. Weems acknowledges that in 20th century Armenians has applied the first major terrorist campaign in the largest proportion and in the name of religion. We can accept this as one of the occasional voices which came out from the West. Weems wrote this book right after the attack which was done to World Trade Center in New York, on 11th of September in 2011. Rightly, he addresses the question to the people who governs the USA and to entire Western world: "While USA was financing billion of dollars to Armenians (who exposed strict religious terror to Azeri and Turkish Muslims over 100 years) and to their terroristic country how can they blame Muslims in Islam terror? How can they except from Muslims to love us?
The reason of writing this book which consists of five volumes is to compare a person's honor with a Western person. The results came by Weems are real and simple. Weems used archives and documents of countries (Russia, England, USA, and France) that always support Armenia, as well as he held inquiring of documents that have been falsified and omitted by Armenians. According to Weems the only objective truth that arise from these events are like this:
* The first ethnic cleansing and religious terror were outbreak by Armenians in the XX century
* Armenian terrorist organizations and current Armenia bases on racial and religious genocide.
* Armenia is neither democratic nor worldly republic. It is a country that bases on radical religious ideas. This is despotism. This is a "terrorist country" with all their rules, programs and ideas.
* As a result of terrorist activities, rebellions and fights done by Armenians with the help of Western countries, there were killed thousands of Muslims. Muslim Turkey Turks and Azeri Turks, as well as Christian Georgians were killed by Armenians, without thinking if they were woman, child or civilian.
* The main instigators of these attacks are Western Imperialist countries. Because, European countries and USA always gives support to Armenia under the name of "religious brotherhood". Though 1 million Muslim Azeri were exiled out of their
lands, tens of thousands of people were executed, the genocide were done against Turkey in 1990, USA still supported Armenia by granted them with 14 billion dollars. Besides, Russia also allowed to this genocide by giving them 1 billion dollars. At that times USA declared sanctions to Azerbaijan, which 20 % of its territories were occupied by Armenians. According to Weems, this is 150 years dirty, bloody and sinful trade. Armenians continue to shed blood under the name of "Christianity".
Weems, as a Christian confesses sincerely that, all these happenings had insulted Christianity one more time after crusade marches. But according to Weems it is also under question that Armenians are belong to Christianity. He showed with facts that Armenians killed their coreligionists – Georgians, too. In this way, Weems tries to show not only religious, but also racist side of Armenian fanatism.
Who is Samuel A Weems?
The author Samuel Weems is the pensioner judge, who was born in USA, Arkansas and Hazen province. Taking into consideration that, this post is elective in USA and as Weems was actively engaged in political issues of Democrats Party, the main reasons of writing this book are the focusing of USA foreign policy on Armenians and Armenian parties and making decisions of USA government in favor of Armenians. The rules embraced a large sum of money to Armenia by US government, made a lot of doubts in Weems's mind. He was starting to think about why USA supports invader Armenia, which was sufficiently supported by Russia, the rival of USA. Besides USA knows that, 20% of Azeri lands were occupied by Armenians. Arkansas is a place, where religious and racist discourses are very intensive. Another important characteristic of Samuel A Weems is his functioning as the priest of Protestant Baptist Church. According to his investigations, he observed the acceleration of anti propaganda of Muslims and Turks, both in USA and Arkansas. He knows that Turkey is holy land according to Bible. As a result of his religious trips to Turkey and his investigations about this country, he came to this conclusion that, the fake "barbarian, blood-thirsty, savage" image that was created by Armenians in the West was just imagination of them.
The ways leading to truth may be different. The main thing that made him to be rise against attacks of USA and Christian West to Turks and Muslims are his patriotic feelings and religiousness. He was investigating the reason of blackening of Turks' ancient tolerant and just history. He came to this conclusion that, those Armenian propagandists damaged to Christianity more by stirring up hatred.
Turkish friend who shares the same destiny with Turks.
But the investigations made by Weems didn't cause so many echoes. Instead of he was exposed to pressures and prosecutions that equal have done for Turks. Weems was hit the mark by the Armenian Diaspora, which is well organized in USA and which is trying to subordinate people by means of all kind of terroristic ways including committing of
crimes. Armenians were intolerant to an echo, which is revealed their injustice actions. Weems was accused by "criminal acts" by the Armenian anti propagandist forces. He was describing as roguish man. Even he was claimed that, Weems is the secret spy of Turks. But this is fact that, Weems is in favor of truth.