20.04.2013 | 09:35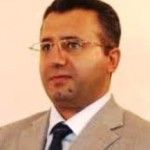 Hatem Cabbarlı
Dr. political Sciences
The leader of Inheritance Party Raphi Hovannesyan who was the second due to the results of presidential elections held in 18thFebruary of this year objected to the results of elections and began to organize protests and meetings in March. Though he knew that this protests and meetings will not be results, did unlucky efforts in order to keep his image in front of voters and to fill the empty place in social-political life. In this period Hovannesyan met with Serj Sarkisyan and told that he is not pleased with the results of the meeting in different ways. Then in Armenian press it was sounded that Hovannesyan and some others from his parties have opportunity and chance to be in the government. Though Hovannesyan wanted to be presented in some ministries and in state committees, leader Armenian Republican Party told that this issue is not a discussion topic and put dote on it.
       Though it was waited that Hovannesyan will organize big protests in 9th April on inauguration day of Sarkisyan, the protest was not so big as waited and did not bring any noise. Though some people were wounded and arrested in protests, it was not resulted with the strengthen of protests. Hovannesyan told that he does not accept Sarkisyan as President and as the religious leader of Armenia Qaregin participated in inauguration of Sarkisyan he invited him to retire.
       In information given in Armenian and Azerbaijan press, though the riots and protests were valued as the power which can be a reason of serious changes in the country, especially though there are serious economic problems Sarkisyan can control the country. But we should note that, there can be different problems in internal and external politics for Sarkisyan in future five years. Due to the results of Parliament the government which was established alone by Armenian Republican Party is far from legitimate. There probably will be problems in foreign policy, especially problems in Russian direction.
       As the Mountainous Karabakh problem is not solved it is the serious problem in front of Armenia. As this problem is not solves, it does not let Armenia to participate in regional and international projects also it is a problem for economic development of Armenia. Though Armenia tries to hold its independence with the political and financial aid of Russia and European countries this situation cannot go on forever. As the economical crisis in Europe has became deepen, the Armenia is stronger and its pressure increased in exchange for the support from Russia prevents the development of country.
       Russia increased its pressure for the membership of Armenia to the Customs union and Eurasia unity. Of course the cooperation of Armenia with this two organization under the leadership of Russia will make problems for the relationship of country with European Unity. In the day of visit of Sarkisyan to the Russia in 11th March of 2013, the vice- Minister of Foreign Affairs of England Simon Fraser told in his declaration that the integration of Armenia in Europe are not contradiction with its economical relationship with Russia, but the membership of Armenia to the Customs Union will make problems in cooperation with European Unity about the free trade zone issue. Of course, it was not occasionally that this declaration was given in the day of visit of Sarkisyan to Russia.
        Even if Armenia wants, it has no power to go far from the influence of Russia. The control cover of all strategic industrial enterprises of country is in hands of Russia. Armenia depends absolutely from Russia in the field of energy. Armenia gets the big part of natural gas that uses and the distilled uran that needs for the activity of Metsamor atom electric station from Russia. It is supposed that about 2 million Armenians live in Russia. Probably the annual amount of money those migrants send to their country is about more than billion dollars.
        102 Russian military bases are situated in Armenia. Even though there is this base, limits Armenia's maneuver opportunities in front of Russia. Russia is serious obstacle in front of the foreign and economical politics perspectives of Armenia. It is impossible for Armenia to realize a politics which protects state interests in these fields without weakening positions and decreasing pressures by Russia.
        This situation does not promise better perspectives for Sarkisyan in future five years. It is more difficult every day to keep balance between Russia and European Union. The increase of foreign debts in geometric progression way, unemployment, migration, the spent of less financial means to armament will be harder problems of the state in future years.
mdi-az.org