26.01.2015 | 15:23
Anti-Azerbaijan movement was flamed again at the middle of 60 th years of XX century in Armenian USSR. So, 50 anniversary of false "Armenian genocide" has been celebrated on april 23 in 1965 in Armenia and this event created new, strong push for forcing out of the Azerbaijanis form their native lands. This event motivated the armenians who lived in The Nagorny Karabakh Autonomous Region of Azerbaijan for seperatist actions. Armenians were seriously supported by Armenian diaspora, killed several azerbaijanis in Khankandi in 1967.

Armenia raised territorial claims against Azerbaijan in 1988, Armenia occupied 20% of Azerbaijan territory by miltary support of Russia as well as 7 adminstrative regions neighboring to this territory and former The Nagorny Karabakh Autonomous Region of Azerbaijan in 1992.

Karabakh who has ancient history, is not only in the region of Azerbaijan but also world. Settlement place of an ancient humans has been detected in Azikh cave in this territory. This settlemnet place proves that this area is one of homeland of humankind of Azerbaijan, as well as Karabakh together with Mediterranean Sea basin and Eastern Africa.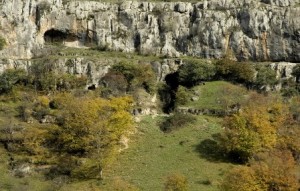 Azikh man- jaw bone of human called as Azikhantrop from ashol section of Azikh cave, has ben founded in 1968. Life of Azikh man is expected 350-400 years ago. Great changes occured in Karabakh's life during the periods of Eneolithic (VI-IV millenniums b.c.), bronze and first iron (the end of IV millennium b.c.- begining of I millennium). Late bronze and first iron period (XIII-VII centuries b.c.) called as Khojali-Gadabay culture.

In order to justify his invader actions, armenians claims that these occupied lands are their native lands, only armenians lived in these lands throughout history. They seriousely work for creation of new armenian national-cultural values instead of Azerbaijan culture in order to substantiate these claims. So, they create their new history on the ruins of Azerbaijan culture destructed by Armenia.

We can't hide our amazement on how great culture does our nation has got for thousand of years ago while investigating occupied territories of Azerbaijan that are enriched with cave constructions, rock descriptions, mounds, capacious statues, castles, plot and ornamental swellings, architectural monuments that surround different periods from Neolithic to XXI century. You can be a witness how they have been made with specific taste and artistic thought while looking through the cultural samples differed from each other with different beauty of world which you haven't ever seen.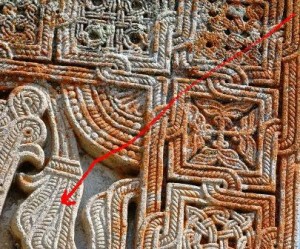 Perhaps, as stone is created by God as one of natural gifts, first humans created their first drawings with the methods of carving, shaving, scrawling on the stones. Certainly, we can see the drawings of floral, geometrical, bird, animal, different decorations on mountain stones and architectural statues' walls in The Nagorny Karabakh and its surrounding regions as in other territories of Azerbaijan.
We can face with bird, animal, human descriptions who have individual character basicly among the decorations of several architectural statues in the periods after bronze period. Most of descriptions are carved under static condition, we can face with vital descriptions functioning in dynamic form.
According to the researches, national cultural ornaments existing in these territories are several original plot motives occured in fine arts related to belief of ancient turkish-speaking tribes. For example, we can point religious ceremonies of the shamans, the descriptions of ongon bird totems occured related to zoomorf conceptions in the ancient turkish-speaking nations. Armenians who are aware of these points, either destruct or change form of the totems in the territories in order to wipe out azerbaijanis' traces from these lands. Therefore, Armenian government is engaged in change of existing stone plastic's form and content through creating "historical" and "cultural" "evidences" in order to demonstrate that, as if The Nagorny Karabakh of Azerbaijan and its surrounding territories "belong" to the armenians. So, armenians implement construction works on tens of armenian churches and hundreds of different capacious and different-shaped armenian crossstones in the occupied territories in every year.

Although this action made a damage in the amount of millions of USD to the economy of Armenia, Armenian government doesn't want to stop his action related to the destruction of Azerbaijan's national-cultural values in the Nagorny Karabakh and surrounding territories.

In order to prevent such dangerous action of Armenia on the direction of destruction of Azerbaijan's history and culture, it's obvious that there was a need for creation of the tasks given by Mr. Ilham Aliyev, The President of Azerbaijan "More strengthening of agitation of Azerbaijan's national-cultural values remianed in the occupied territories of Azerbaijan at international level" to Azerbaijan intellectuals and public representatives.

Armenians mostly use the following methods in order to "prove" belonging of these lands to them historically and appropriate Azerbaijan's national-cultural samples in the occupied territories:

1. They build armenian crossstones and churches in the beautiful places of territory.

2. They organize wide agitation work on the belonging of historical and cultural monuments till christianity period to the armenians.

3. They make the monuments as armenian origin through changing the ornaments of the monuments of christianity period.

4. They competely destruct muslim religious monuments.
Construction of armenian cross stones and churches in the territories of former fitness centers, mountain slopes, facinating places of occupied Azerbaijan territories .
Sujetli stones, horse, ram figures, carvings, stonem rock drawings in these regions that surround different historical periods who couldn't obtain its scientifical value till our time in The Nagorny Karabakh and its surrounding territories and life style of local population living here, attracted attention of several local and foreign countries' researchers.

Armenians who haven't root in the Caucasus, achieved to convince world and create traces of their histories artificially. Armenians purosefully keep method of change of national belonging of Albanian architecture, appropriate Albanian statues nd they "struggle" on this direction tirelessly. Bazilica, sovme and church constructions are statues who were subjected to several appropriation and change. Taking into account christian religion's emblems and symbols on such kind of statues as well as stone and wall drawing samples, armenians present them as the elements that belong to grigorian religion. It led to falsification of history.

Georgian historian A. Chavchavadze comprehensively reflected the facts on appropriation of Azerbaijan's christianity period statues in "Armenians and blood crying stones". He writes: "… Making grigorianism in aborigen albanians artificially, armenians called Azerbaijan lands as "Country of Hay"". But researchers point that, the monuments of christianity period isn't coincided with armenian language (grigoriansim), armenian culture and origin. So, research of Albanianchristian monuments form historical- archeological and architectural point of view, supports in clarification of several features of christianity.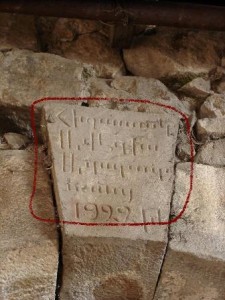 Prominent Caucasus researcher, russian historian Y. İ. Krupnov wroted: "There wasn't any restriction and constraint in the learning of Albanian history". Albanian history hae been learned by the different countries' historians. But it's obvious that, azerbaijanis should be engaged in history and destiny of Caucasus Albanian. They are responsible before world science on this sphere, obliged for world science.
According to our researches, the present occupied territories were part (b.c IV- VII century of era) of Azerbaijan Albania and Atropatena during ancient periods and early middle centuries.

After adoption of Christianity as official religion in Albanian state, this religion was under control of christian ideology anyway due to existence of Albanan state. The temples, bazilicas and sovmes that belong to albanian-christian religion occured in all regions of North Azerbaijan during existence of Albanian state who has nearly thousand of years history. According to such architectural style that was specific for his period, it's clear that, all architectural types of eastern christianity developed in Albania.

Most of these monuments kept his initial form in several territories of Azerbaijan and remained till our period. Such as example, Khudavang architectural complex in Kalbajar region, XIII century, Urak temple in Talish village 1279, Khudavang temple in Gozlu village 1204, Agoglan temple in Kosalar village of Lachin region IX century, Varazugun temple XII century, Amaras monastri in Sos village if Khojavand region IV century, holy Yelisey Temple in Agdara region, Ganjasar temple in Vang village XIV century, Gavurdara temple in Gubadli region, Yegish Arakel (XII century) in Magadiz village of Agdam region, Khansikh (1122) in Khojali region, Khachmaz 1100 years, Armudlu temples of 1202, Red temple of 1000 years in Tug village of Khojavand region, Hagapat temple, Goshavang temple, Dadavang temple, Agtala temple, Archivang temple, Tatev temple, Uznkar temple, Yenivang temple, Sanain temple are among the facinating samples of albanian architecture remained till our period in the territory of Western Azerbaijan.
Now, changing stone inscriptions, ornamental descriptions, artistic stone samples and several christian religion symbols, armenians submitted these monuments as armenian churches and monastrlari in the press.

It's clear that, Azerbaijan was subjected to concrete material and moral damage as a result of Armenia' s aggression and occupation and Armenia is responsible before Azerbaijanas invader country for this damage. As mentioned that, as a result of aggression of Armenia against Azerbaijan 20 % of Azerbaijan lands have been occupied and nearly 1 million people became refugee and IDPs, Azerbaijan was subjected to large-scale material and moral damage on population, territory, economy, culture, ecology, plant and animal world.

It's obvious that, several historical and cultural monuments haven't been officially registered in the Nagorny Karabakh of Azerbaijan and its surrounding territories at that period because of the issues on preserve and registration of real historical and cultural monuments haven't been performed satisfactorily. It makes a great difficulties in valuation of the damages made by the armenians and registration of the monument remained in occupied territories of Azerbaijan. At the same time, Azerbajan is subjected to damage in the amount of millions of manat in every year on state budget at the same time history, culture because of we can't use our historical and cultural monuments in the occupied territories, exactly our monuments are under occupation of enemy. As mentioned above, according to primary calculations, damage made to the historical and cultural monuments of Azerbaijan is valued on the following:

Total amount of damage made to officially registered historical and cultural monuments: 84 883 726 000$

Total amount of damage made to historical and cultural monuments that haven't been registered: 46 066 086 000 $

Total amount of damage made to portable historical and cultural monuments in the occupied territories: 47 050 188 000 $

Total amount of damage made to historical and cultural monuments in the occupied territories: 177 000 000 000 $ .
As a result of Armenia's illegal action related to Armenia-Azerbaijan, Nagorny Karabakh conflict, payment of damage made to Azerbaijan in the form of resititution, also returning of all occupied territories of Azerbaijan, are required.

These issues comprehensively have been indicated in the same annex to the resolution named "States' responsibility for international illegal actions" no. 56/83 adopted by UN High Assembly on december 12, 2001. According to the 28 th item of the document, international illegal actions cause to the responsibility of state's international responsility, finally it makes legal results.
According to the 31 th item of "States' responsibility for international illegal actions", responsible state should pay for the damage made by him as a result of international illegal actions qand this damage consist of all damages made as a result of international illegal actions as well as material or moral damages. Forms of payment of damage made as a result of international illegal actions, have been determined in the 34 th item of "States' responsibility for international illegal actions". According to this item, complete payment forms can be restititution, compensation and satisfaction for damage made due to international illegal action. These forms can be used separately or related to each other".

Azerbaijan faced with distortion of our history and great loss of our culture because of Azerbaijan was always subjected to the loss of territory by the armenians from XVIII century to XXI century.
Today, protection and preserve of our historical and cultural monuments in the occupied territories, are actual through mediation of international organizations. These monumets have universal character because of Azerbaijan's occupied historical and cultural monuments are indivisible part of world culture, preserving and delivering of them in the future generations must be duty and objective of all world nations.
Faig ISMAYILOV
Writer, Publicists
"KarabakhİNFO.com"