06.08.2014 | 07:40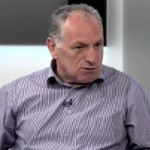 Artsrun Pepanyan, the president of the political-research foundation Verelk (Ascent), said he feels that the existing challenges in Armenia require a new quality of leadership that will be aware of the nation's past and its role in the world history.
The analyst made the statement when asked to comment on the need for a political consolidation in the current state of affairs that often drive the society to panic, with the reports about reoeated cross-border attacks often giving way to uncertainty.
"The need for a consolidation existed long ago; the country's decline is actually seen by those who really wish to see it. But the authorities' awkward behavior on the one hand and the opposition's improperly considered moves on the other tore apart and shattered our collectivism that had remained after the Artsakh [Karabakh liberation] movement.
"Consolidation is not of course utopia. Few people could believe that the Armenians would demonstrate the bright example of consolidation in 1988. Now too, it is theoretically possible to awaken the Armenians. But to do that, we need a new quality of leaders who will be aware of the true history of the Armenians and their role in the world, and at the same time be able to find the way leading to an Armenian's heart," he said.
"KarabakhİNFO.com"