02.08.2014 | 23:32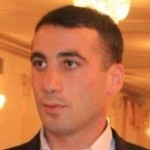 According to the Armenian media, the Armenian expert Haroutiun Mnatsaqanyan gave brief information politicians, military experts, patriots who call for the war today. The last years a person martyred in a week, 50 people martyred in a year. Now, however, we started the war considering your request. Each of you knows, at this time casualties and losses will be more than previous years. In comparison there will be more casualties than 1992-1994. At this time a number of losses will increase to 1500 people.

Can you imagine the most valuable and young generation of the nation will be killed.
If we reach any X city… after this?
Can you imagine the condition of 1500 girls and widow women?
They are wives or future lovers of victims. Wives of victims need to work at least 2 places to earn money for growing up their children. Others who can't find a job will be a prostitute or a whore of any libertine.
The public will treat the victims' children as ill-mannered people of society. No one considers that they will be a valuable person for his homeland. Women who are single will be married with the cowards and deserters and will change our genes.
"KarabakhİNFO.com"