17.09.2014 | 11:39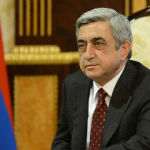 Armenian President Serzh Sargsyan received on Tuesday US Co-Chair of the OSCE Minsk Group James Warlick, "KarabakhİNFO.com" international e-journal reports quoting tert.am.
The sides discussed the present stage and prospects of the Nagorno-Karabakh peace process.
They exchanged views on the issues discussed at the Armenian-Azerbaijani presidential meeting in Newport, Wales, on the initiative of US Secretary of State John Kerry.

"KarabakhİNFO.com"