27.08.2013 | 16:23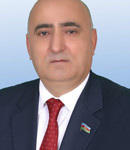 Musa GASİMLİ
The member of Parliament
Doctor of Historical Sciences, Professor.
There are several works, articles written about Azerbaijan's Nagorno-Karabakh region, and the conflict which was created due to Armenian invasion. There were published various articles about this issue in foreign countries too. I would say about my own activities about this conflict that my books, thesis and articles were released in Azerbaijan, Russia, Turkey, Argentine and other states. Generally, Azerbaijan's historical science has already realized very considerable activities around this conflict, however it should not be seem sufficient. Archives in foreign countries, especially in Georgia and Russia should present to the public. I worked in Russian and Georgian archives and investigate several materials there. The conclusions of this research will be released in my new books Though I think that the youth should be involved in this case mostly. Our young people should work on this issue more closely.
I recognized with several materials which were devoted to the Nagorno-Karabakh conflict, created by Armenians themselves. They try to falsify the history in their "works" and try to show the realities in the way which seemed in favor of Armenians. The historical reality is the fact that Armenians placed in South Caucasus after the separation of Azerbaijan. They migrated not only to Karabakh but also into South Azerbaijan. They are not aborigines in this region, they came here later, and were placed here. Armenian authors try to distort the history and substantiate this invasion. However, they forget that Armenian state has never existed in this region, and Armenians were placed in Azerbaijan lands since 1918.
 "KarabakhİNFO.com"