25.02.2013 | 15:48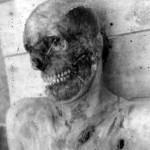 Khocali habitant Qedim Abbasov: "the captives who had metal teeth they pulled out with the head of nail"
    The next anniversary of Khocali genocide is closing. It is very difficult for witnesses to remember that night. But that genocide realized by Armenian-Russian militaries in 26th February of 1992 should not been forgotten. The crimes made by Armenian fascism should be informed to the world society. The most correct facts can be told by witnesses of Khocali tragedy. In this case "KarabakhINFO.com" presents the interviews of Khocali genocide witnesses in succession. Our interviewer is Qedim Abbasov who was one of the habitants who left the city last in occupation day of Khocali and lived 48 day captive life.
–          Was it waited that such tragedy will be realized by Armenians with Russian troops in Khocali?
–          We waited when Armenian invaders will attack to Khocali. That time Khocali was alone. All communication means also roads were closed. There was no gas, electric and water. They closed everywhere so that none of Khocalis had hope place. In 25th February at 23:00 Armenian gangsters attacked to Khocali from every side. The tragedy happened in Khocali may be never happened in any place of the world. They shot Khocali from each side for about 4 hours. You could find needle in the place in the dark night with the light of bullets. At 01:05 the post also did not answer. We all gathered in front of the post office, aroung Elman Memmedov who was the governer of Khocali then.   When all the ways were lost, Elman bey told everybody should defend himself/herself how they can. That is why women and girls went with the band of Aqil Quliyev to Asgaren, others went with another band to Tetik mountain in the direction of Dehraz.
–          Did not National Army defend Khocali that night?
–          What did National army have?    I was walking with bird gun in my shoulder. There were only civil people in Khocali that time. Only Agil's and Alif Hadjiyev's bands in airport were there from militaries. There were approximately 120 militaries. What could do 120 people in front of the tanks attacking from each side? Alif Hadjiyev cut the way of airport for 2 hours. He was obliged to leave airport at about 2. Then he came to help to carry the body of Aqil out. But he died also. My daughter was also among them. They all were martyrs of faith.
–          In which way you left Khocali?
–          We went to the direction of Tetik Mountain by forest. Armenians shot us in the forest when we did not rich Dehraz village yet. Then I was wounded from stomach and leg. Then I told my wife to leave. I thought not to leave them to hands of Armenians. But my brother and brother's son stayed with me. They carried me shuffling. But they take us captive in Dehraz. Armenians hold us in Dehraz for three days. I was in such situation that even did not have socks in feet. There were 18 Khocali habitants who were captive with us there. Then they took us to Khocali with car. There was petrol station at the end of Khicali. When we arrived there Armenians gathered bodies and wounded people of Khocali in three places. There were 15-20 people in each heap. There were many old men, women and children among them. They tied hands and legs of who were alive. They poured petrol on them and burnt. The hue and cries of live people went to the sky. They covered us with tent. They stopped the car and showed us that tragedy.  After half an hour they took us to the end of Khocali. There Armenians were eating. They pulled all of us out of the car to shot. Then white "Niva" came. One got out of the car and did not let them to shoot us. Then they took us to Khankendi. Then a place named "kerchief fabric" was built there. Then we knew that it was prison. Prison grills were made on glassless windows of rooms. All day snow was coming inside. They searched our dresses and put us there. From that day they began giving torture to us.
–          Which torture methods they used against you mostly?
–            Every day three-four Armenian diga was coming inside drunkard and began beating us with bludgeon, helve of spade and the butt of rifle. Armenians named Edik, Veniks and Aram were beating us mostly. We were tortured every night. They frightened us not to tell tortures to pupil on duty. I could not get up for a week. They tied my legs and hands and were throwing me on the floor. I could not turn back. Because knew that they want to break my waist. They were pulling out metal teeth of captives who have them with the head of nails. There was a man named Qenaet among us. They throw him to iron grills so that the place of grill stayed in his face as seal.  They were touching to the wound of who was wounded and torturing them. There was one military from the band of Agil Quliyev. He had wounds from 8 places. They killed him touching his wounds there. They killed 3 of 68 people beating. But then changed others. When a week stayed to the changed they stopped beating us. They were waiting the cure of our bodies and faces in order not to show the signs of torture.
–          What they were telling while beating you?
–          They were telling as if we gave torture them. But in reality there was no such thing. We had friendship with Armenians. But when bearded men went to Khankendi everything changed. They changed the mind of nation. They were telling that Mountainous Karabakh is theirs. We cannot master them. They were pressuring us psychologically. They were telling that occupied until Kur. If we will run out of there we cannot rich Azerbaijan lands. They thought we believe in them. They took my brother's son and beat him repeatedly. He was losing mind but they poured water on him. He was telling that Karabakh is ours.
–          Most of witnesses tell that sometimes Armenians came and took captives. Then those captives did not come back. Did such thing happen when you were captive?
     –          Yes it happened. They were taking some captives at night. They told that took them for change. We did not know they were taking them for killing or for change. Then we did not have information about them.
–          How you could escape from captive?
–          Then you could solve everything with money. Armenians wanted 30 thousand manat for each body. National Hero Allahverdy Bagirov played important role for our escape. My brother gave 350 thousand manat and returned only me. In 12 April they changed 10 people with me.
–          When they freed your brother and his son?
–          They took my brother as if for change before us. They took him to kill. They beat him so much that took to the boundary in mortal situation. Then my cousin took him to the hospital. I went to him after being free from captivity. He did not know me. Armenians pulled his eyes and nails. They beat him so much with reinforcing steel that his meat was cut inside. He stayed in hospital for 8 months. But did not live much, died. They changed his son after 4-5 months.
Fuad Huseynov
KarabakhİNFO.com