12.11.2014 | 17:07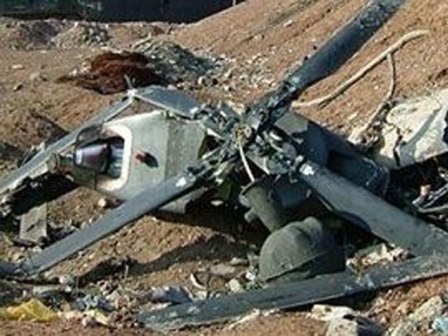 The Azerbaijani Defense Ministry issued an official information about the downed Armenian helicopter. As the press service of the Defense Ministry told Azeri Daily, during the last three days Armenian air force has been carrying out provocative flights along the front line.
However, today the Armenian air force, performing combat maneuvers, attempted to attack Azerbaijani positions.
Today at 13:45 1700 meters in a northeasterly direction from the Kengerli village of Aghdam region combat helicopter Mi-24 of the Armenian Armed Forces took the combat course and attacked Azerbaijani positions.
As a result of retaliatory fire helicopter was destroyed. The wreckage of the helicopter crashed 500 meters from the front line.
Armenian side confirmed the information that the Azerbaijani Army shot down a combat helicopter belonging to the so-called 'army of defense of Karabakh.'
As reported by 'News Armenia' at 13:45 Azerbaijani Airdefence shot down Mi-24 helicopter.
Azerbaijani armed forces shot down an Armenian combat helicopter that crossed the front line, Qafqazinfo reported.
According to the information, the helicopter fell on the territory controlled by the Azerbaijani army, and caught fire.
This fact has been confirmed by the Defense Ministry of Azerbaijan.
It should be mentioned that Armenia is conducting at the moment large-scale military exercises in Karabakh. It is possible that the downed helicopter took part in these exercises.
"KarabakhİNFO.com"