23.09.2013 | 16:28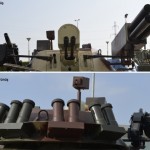 APA reports that new combat war combines a large number of weapons, security and surveillance systems.The combat module created by local engineers can be included in the armament of BRDM, BTR armored reconnaissance vehicles, as well as BMP-1 and BMP-2 infantry fighting vehicles.
The armament of the combat module includes 23mm GSh-23 twin-barrel cannon, 7.62 mm PKT machine gun, 30 mm AGS-17 grenade launcher, S-8 (S-5) rocket launchers with capacity of 4 rockets, D-81 smoothbore cannon, optical and thermal shooting ranges.
According to specialists, the new module differs from "Shimshak" (Lightning) combat module jointly produced by EWT company of the Republic of South Africa with its compactness and multitask capability. This system has been created based on the experiences of specialists, who participated in battles.
"Shimshak" combat module is installed on BTR-70M.
APA