26.09.2013 | 11:17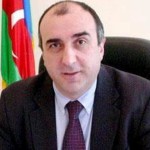 Southern Gas Corridor (SGC) is a new source for Europe, Azerbaijani Foreign Minister Elmar Mammadyarov said during panel discussions of Caspian Forum in New York.Next decade, if it is completed by 2019, Azerbaijan will get more profits and money from that project for the country, for the people, minister said.
"Regional conflict between Azerbaijan and Armenia is not a dead conflict. It might be a problem on the way of completion of the construction. Occupation by the Armenian armed forces, practice of ethnic cleansing. But how we should proceed the sustainable development. will have a positive view. It is not just gas and oil but also more development to the region", he said.
Azerbaijani FM then send message to Armenian neighbors.
"We are ready to assist you. But you need to behave as a civilized state. And then you can join our project".
Gas should go directly to consumers, it will create prosperity if goes house to house, Mammadyarov added.
The conflict between the two South Caucasus countries began in 1988 when Armenia made territorial claims against Azerbaijan. Armenian armed forces have occupied 20 per cent of Azerbaijan since 1992, including the Nagorno-Karabakh region and seven surrounding districts.
Azerbaijan and Armenia signed a ceasefire agreement in 1994. The co-chairs of the OSCE Minsk Group – Russia, France and the U.S. are currently holding peace negotiations.
Armenia has not yet implemented the U.N. Security Council's four resolutions on the liberation of the Nagorno-Karabakh and the surrounding regions.
Trend.az