13.11.2014 | 11:22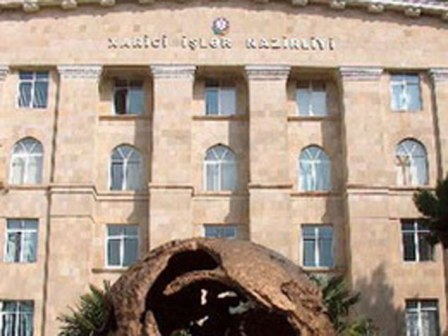 Ministry of Foreign Affairs of the Republic of Azerbaijan made a statement on Armenian helicopters' attack to Azerbaijani positions.
"In the aftermath of Paris meeting at the level of presidents organized at the initiative of French President Francois Holland on October 27, 2014 Armenia has started to hold the large-scale military exercises with the involvement of big number of personnel and the military equipment in the occupied territories of the Republic of Azerbaijan and has been continuing to violate the ceasefire intensively", the Ministry told "KarabakhİNFO.com" international e-journal.
"On November 12, as a continuation of the provocative combat flights observed during the last three days, two helicopters of the air forces of the Republic of Armenia attacking front defence positions of the troops of Azerbaijan opened fire. With return fire one helicopter was shot down and another one was forced to leave the fire zone.
The Republic of Azerbaijan has declared its airspace closed over the occupied territories and in an appropriate manner notified all member states of the İCAO.
The illegal intrusion of the military helicopter of Armenia into the airspace of Azerbaijan is a continuation of Armenia's occupation and aggression against Azerbaijan and its policy of use of force against the territorial integrity and sovereignty of Azerbaijan.
Instead of taking concrete steps towards starting to work on the draft Comprehensive peace agreement as an outcome of Paris meeting, these deliberate provocative attempts of Armenia are aimed at escalating the situation, undermining the negotiation process and maintaining the current status quo," the statement reads.
The main reason for tension is the presence of the armed forces of the Republic of Armenia in the occupied territories of Azerbaijan. Therefore, as stated by Azerbaijan on many occasions, the Armenian side bears all responsibility for escalation of already tense situation. For the resolution of the conflict and establishment of peace and stability in the region, first and foremost, the armed forces of the Republic of Armenia must be withdrawn from the occupied territories of the Republic of Azerbaijan.
"KarabakhİNFO.com"