10.01.2014 | 17:10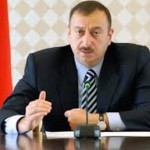 Azerbaijani president once again voiced criticism against the mediators in Karabakh peace process.Speaking during the government's meeting, Ilham Aliyev said Azerbaijan hopes for positive movement in Karabakh talks.
Noting no progress over the previous year, Azerbaijani leader admitted "there was certain activity" in the end of 2013.
"Azerbaijan demonstrated constructive position. I hope the mediators will play more active role in the negotiations process," Azerbaijani media quotes Aliyev.
"KarabakhİNFO.com"