17.05.2013 | 11:10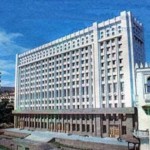 The international forum of think tanks of the Black Sea Economic Cooperation Organization (BSEC) member states is organized by the Center for Strategic Studies under the President.Addressing the opening of the forum moderated by MP Rasim Musabeyov, chief of the Presidential Administration Political Analysis and Information Provision Department Elnur Aslanov said that Azerbaijan accounts for 75% of economy and 65% of population in the South Caucasus: "Azerbaijan is the major transport corridor connecting West and East and it is very difficult to implement regional projects without Azerbaijan. Azerbaijan is becoming the center of political and economic, as well as inter-religious and intercultural debates."
Aslanov also touched on the situation in the South Caucasus and Black Sea countries.
"This is the area where there are separatist tendencies. And Armenia has become a state playing the role of cancerous tumor in the South Caucasus. Illicit drug and arms trafficking here is not controlled by the international community. Therefore, it is inevitable that sooner or later Armenia will fall. Withdrawal of Armenian armed units from Azerbaijani territories must be ensured basing on the four resolutions of the UN. We would like Armenia to become a state making efforts in establishing peace and stability in the region. But there exist difficulties in this regard. Nevertheless, we hope for peaceful solution of the conflict. If it does not happen, Azerbaijan has great opportunities provided by the international law to liberate its territories," he said.
SAM Director Farhad Mammadov spoke about the importance of the event. Touching on the situation in the region, he underlined that Azerbaijan has the biggest conflict in the region.
Following this, the participants of the event made speeches on the topics discussed. The international forum will be continued with panel discussions and end tomorrow.
Apa.az