10.02.2015 | 14:42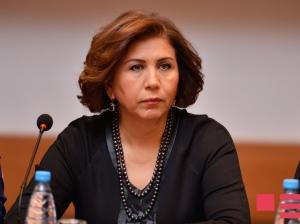 The Nagorno-Karabakh problem will be raised at the winter session of the Parliamentary Assembly, vice-speaker of the Azerbaijani Parliament, Head of the Azerbaijani Delegation to OSCE PA, Bahar Muradova told
APA
.
The vice-speaker said the meeting of the Assembly's Committee on Political Affairs and Security will be chaired by Deputy Chairman of the Committee, MP Azay Guliyev.
"We have brought up the Nagorno-Karabakh problem in every event of the OSCE, taking advantage of the issues to be discussed.
"We will do it again. Interim reports on preparation for the summer session will be read out. The reports cover the OSCE scope of activities for conflict prevention and the activity toward elimination of the consequences. Of course, the Nagorno-Karabakh conflict will be on the agenda along with the discussion of protracted conflicts and developments in Ukraine," she noted.
Bahar Muradova said that Azerbaijan is interested in all the issues discussed in the OSCE and always expresses its position regarding these issues.
"Our activity is not limited to the Nagorno-Karabakh conflict. We express our position on all issues in either economic or military-political fields or the area of human rights. Besides, we express our critical remarks and some positive aspects", she said.
The winter session of the OSCE Parliamentary Assembly will be held in Vienna on 18-20 February.
"KarabakhİNFO.com"