18.12.2013 | 07:55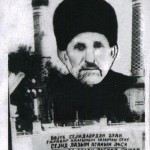 The Sayyid contribute social structures of the spectacular groups of Muslim community and have a great reputation among believers, and now the owners of such authority. Sayyid Lazim Agha is well-known in Azerbaijan and nearby Muslim countries and hasa great respect and esteem for the people who believe necessary Sayyid miracles. His hearth respect and belief is growing day by day.Every day thousands of people visit theSayyid Lazim Agha tomb in Agdam.
Karabakh people altar is the name of prophet's descendant who has cured thousands of people in his lifetime. He gained a tremendous respect as an elder.
Although born in Lachin, he lived in Agdam region. According to the legend,in the beginning of the last century in Aghdam village of Chamanli lived a very noble man, working a centurion of governor named Ali. Ali centurion was a close friend of Sayyid Agha father and grandfather. The refore, he invited the family to live in the village Chamanliso, created all necessary conditions. They belong to the Shia Imam Zeynalabdin's 4th generation.
Sayyid Lazim Agha was born in the village of Great Seyidler of Lachin region in 1880. But all his life lived in Agdam region. First in Chamanli, then Shykhbabaly villages in 1914-18 within Soltan's group hefought against the Armenian Dashnak Andronik.He had three principles of life: justice, generosity and worship. He was
healthy, slender, lofty stature and his 114-year life was full of miracles. Who came to him, no one returned hopeless. He never acceptedmuch donation. He shared most of donation with the poor.
Though he didn't study in religious school, he knew perfect reading of the Koran. He was engaged in cattle and farm. He put black flower leather hat on his head.
In 1970, the late President Heydar Aliyev visited him in person when hewas in Agdam region.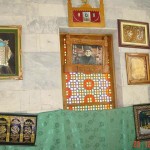 It is necessary for people Sayyid Lazim Agha word was like "Quran" verse, so no one could pass. People carriedhis pictures in their pocket, fastened the front window of carsand hungthe most prominent places of their house. He always sat down onhis custom-made walnut wood throne in the market. People never go without kissing his hand and receivinghis blessings. There was a box for donation at the shop. But the Lord never took this donation and they were distributed to the poor. Who started new job, or those who work in the subsidiary would take one to two pounds for success.
Before the occupation of Aghdam district, Armenians fired region. One day when there were a lot of people in the market Armenians fired with cannons and a miracle occuredone of cannons fallen at the feet of prophet's descendant. Breaking asphalt and fire blew into the ground .Till Agdam was occupied bulletstill remains in the same place. The second bullet destroyed another area.
There are many legends associated with Agha. One of them spoke by a man from Aghdam lives in Russia:
'Once the Armenians attacked while driving my car in Russia. I drived my cars after telling Sayyid Lazim Agha help me "in conclusion, with God willing I survived."
Agha was a very patriotic man.
In 1993, during bloody battles in Aghdam, a Turkish journalistis surrounded with soldiers.Getting rid of incessant gunfire soldiers called for help Agha's name. At that time, gunfirechanged its direction. Turkish journalist, who witnessed this incident, came to Mingechaurto visit Sayyid Lazim Agha.
Sayyid Lazim Agha died in 1994 in Mingechaur as a refugee. According to his will, he was buried in the village of Aghdam Chamanli.
Aynur Tagiyeva
employee of ANAS
"KarabakhINFO.com"