05.08.2014 | 19:30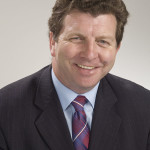 British Labor Party Member of Parliament Gerry Sutkliffe has commented on the situation of Armenia of Azerbaijani, Nagorno-Karabakh conflict.

"In the last days 14 servicemen of Azerbaijani Armed Forces killed, 2 Azerbaijani civilians arrested in the conflict zone. Azerbaijani lands should be returned, and about 1 million Azerbaijani displaced persons have to return their homes. When I was visiting Azerbaijan I went to the IDP camps and was familiar with their condition.
Although the Azerbaijani government effort to offer comfortable living condition but these people's greatest desire is to return their homeland. Armenia must take measures to fulfill its obligation and have to stop breaches of International rules.

In addition, Gerry Sutkliffe built long-lasting and effective career in Politics. He is the Minister of Justice and Sports, as well as senior roles in the Department of Trade and Industry.
"KarabakhİNFO.com"