25.05.2017 | 18:00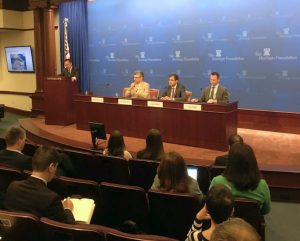 A conference titled "South Caucasus: The threats and challenges for the Trump Administration" has been held in Washington, the US.
The event saw speeches by founder and director of the Center for Energy Natural Resources Ariel Cohen, Director of Caspian Strategy and Policy Centre Efgan Niftiyev Director of Foreign Policy Centre at the Heritage Foundation Luke Coffey.
Ariel Cohen highlighted the strategic importance of the Southern Caucasus region for the US.
Efgan Niftiyev said Azerbaijan and Georgia are the strategic ally of the US, saying these countries share the same interests in strategic transport and energy projects. On significance of the Southern Gas Corridor project Mr. Niftiyev stressed the necessity of continuing the US support.
The Director also highlighted the cause and consequences of the Armenia-Azerbaijan, Nagorno-Karabakh conflict.
On importance of increasing the attention to the regional conflicts by the US new administration, Luke Coffey said the Nagorno-Karabakh and seven surrounded regions were occupied, stressing the necessity of implementation of same approach to solving all conflicts.