15.05.2014 | 06:24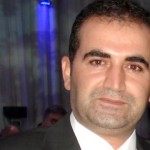 The chairman of South Azerbaijan Social and Cultural Research Center and Azerbaijan National Revival Movement, politician living in the USA Davud Turan's interview to KarabakhINFO.com" international e-journal:
–        Davud bey, for recent years the recognition process of the Khojali massacre has been going on by the United States. It seems, in America "Armenian myth", "poor Armenian" character is about to disappear. What's your opinion about it?
–        The adopting of such conclusions leads to the recognition of the Khojali   event as a genocide   action in the world, Armenia and Armenian lobby realize that their false myth is going to be ruined and in this problem the Azerbaijan state is making a lot of progress. Systematic means of propaganda are giving a positive result.The world community already realize   a real massacre happened in Khojali, hundreds of people were murdered, more than a thousand people were taken hostages. A land was destroyed there. What's more before the eyes of the modern world. It's time to value these incidents. I mean we'll definitely hear the news of adopting such conclusions further and further. Azerbaijan is destroying the false Armenian myth in the world at the moment . And also this theme should be valued from the point of the development of America – Azerbaijan relations. These ties are developing rapidly and the contacts between the two countries are on the strategical level.
–        Is the USA expected to become active in South Caucasus?
–        America has always tried to be active in the region. It should be taken into consideration that Russia's influence opportunities to the region are wide, for that reason Washington prefers more careful. balanced political course. Because after Russia – Georgia war the view of the region changed. Therefore it is impossible not to take the Russian factor into consideration. Russia has also had historical- political and cultural – economic relations with this region for over a hundred years. In spite of this America has got political – economic interests in the Caucasus.
–        The activity of Washington in the solution of the Karabakh problem isn't satisfactory. What is it associated with, to your mind?
–        It's impossible to say that Washington's activity is on the low level. Such an attitude to the problem would be unfair. Washington is one of the states which is interested in creating peace in the region. It should be mentioned that it is one of the co-chair states of the OSCE Minsk group. There are two more co-chair states besides the USA. America is making   initiatives. However they remain the same as there are some controversial problems. What's more the USA can't force the sides. They realize in America that the solution of the Karabakh problem will cause the increase of the American position in the region.
Elnur Elturk
"KarabakhINFO.com"