17.12.2013 | 13:18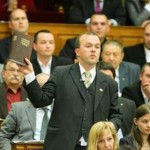 Hungarian MP Tamás Gaudi -Nad made ​​a statement in which he rejected the characterization of Nagorno-Karabakh as an "independent state" and unequivocally called the region the "Armenian-occupied part of Azerbaijan". According to the Hungarian legislator, "further occupation of 20 % of Azerbaijani territory is unacceptable, this fact should be treated with zero tolerance, and the international community and international organizations must force Armenia to immediately leave all the occupied territories of Azerbaijan".
Gaudi -Nad called "the de facto authorities" in Khankendy as " having no legitimacy for the reason that their formation did not involve a whole third of the local electorate due to ethnic cleansing".
Explaining his position, the deputy said: "Internal migrants from Nagorno-Karabakh and surrounding areas are deprived of not only the opportunity to return to their homes but also to visit the graves of their loved ones. Undoubtedly, they suffered from ethnic cleansing in violation of the Framework Convention for the Protection of National Minorities and the UN Charter, which prohibits aggression and occupation of the territory of an independent state".
Returning to degree of legitimacy of the authorities of the Nagorno – Karabakh region, the Hungarian politician said that in condition of the physical absence of the Azerbaijani community in the region because of their deportation from their native lands and Armenia's refusal to allow them to return to their homes to participate in the formation of democratic institutions, any elections held from time to time in the Nagorno-Karabakh region cannot be considered legitimate, free and democratic. "It is clear that all IDPs expelled from Karabakh and surrounding areas, are formally considered residents of these territories and after a speedy end to the occupation, they must return to their homes and take part in elections of local authorities. Until then Armenia should not imitate elections since this is the territory of Azerbaijan, but instead it should comply with the resolutions of the UN and put an end to occupation".
He also said that he recently visited a refugee camp in Azerbaijan and was even invited to a house of a teacher from Karabakh to hear many stories of Azerbaijani refugees about their expulsion by Armenians and war crimes committed against them by Armenian soldiers".
News.Az