21.06.2014 | 07:54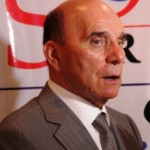 Elkhan SULEYMANOV
Member of Azerbaijani Delegation to PACE
Chairman of the Azerbaijan Delegation to the EURONEST PA
Presiden ACSDA ,MP from Shamakhy
Mr. James Warlick is distinguished with sharing his "fantastic" and crazy "ideas" on social networks since his appointment of a Co-Chair from USA to OSCE Minsk Group. The USA Co-Chair of Minsk Group again achieved to take a "worthy" place on the center of attention.
Thus, Mr. James Warlick has recently visited the region together with other Co-Chairs of Minsk Group. They visited Azerbaijani territories occupied by Armenia and met "head" of the separatist regime formed by the aggressor state. Mr. Warlick again preferred to get distinguished from his colleagues and shared his "genius" idea on social network. He placed the photo of Sarsang reservoir in his account and wrote: "This is Sarsang reservoir. It would be a positive step if the parties were able to use the resources of water." Thus, the opinion of the American co-chair is clear: he calls on the aggressor and Azerbaijan, subject to occupation, to commonly use Sarsang reservoir.
I would like to remind that 20% of our territories, including Nagorno Karabakh and 7 surrounding regions, have been occupied by Armenia for about 25 years. Several buildings of strategic importance are in the occupied territories. One of them is Sarsang reservoir.
The technical equipments are in an emergency condition due to lack of maintenance as a result of occupation of Sarsang reservoir. Thus, Sarsang reservoir is very likely to collapse due to natural disaster, technical and deliberate diversion. Any diversion, technogeneous or natural disaster is much likely to lead to ecological crisis, as well as mass casualties of 400 000 civilians living in frontier regions, and a new humanitarian catastrophe; this threat gradually becomes real.
Moreover, the aggressor opens the water from Sarsang reservoir in winter; thus, the lands are flooded, and roads erode. And in summer when people and agriculture mostly need water, they stop the water. Consequently, agriculture of frontier regions was seriously hampered, problems arose in the irrigation of farmlands, greenery dried, persistent processes occurred in biological structure of the land, and serious ecological tension emerged in the region.
Therefore, the Association for Civil Society Development (ACSDA) launched a wide-scale project on Sarsang reservoir since May of 2013. The organization made critical efforts to bring to the agenda of different international organizations the fact that Sarsang reservoir becomes a source of threat and that the aggressor uses the reservoir as a means of threat. Finally, a rapporteur on Sarsang reservoir was appointed in PACE Social Committee.
Are the opinions of American co-chair of Minsk Group on joint usage of Sarsang water reservoir concidence on the eve of such an important event? I believe that Warlick's opinions serve specific purposes and deliberately aim at influencing the investigations of rapporteur on Sarsang reservoir. By doing this, Mr. Warlick sends message to the rapporteur and PACE members that this is an American position, behave yourself! Thus, Mr. Warlick should know as a diplomat that according to the imperative principles of the international law, the armed occupation of the territory of the other state can not be considered legal in any case and any activity of the aggressor in the occupied territories is illegal. In other words, American co-chair should know that any activity of Armenia and its separatist regime in the occupied Azerbaijani territories is illegal. Then why does Mr. Warlick make such a proposal, which is contrary to the main principles of international law?
Interestingly, when the issue of Sarsang reservoir became a subject of discussion on the international level, Artur Agabekyan, so-called "deputy prime minister" of separatist regime made the same proposal in August of 2013. Is it coincidence that the proposals of the American co-chair and "officials" of separatist regime are fully the same or are taken from one source? I believe that this can not be a coincidence and the main purpose here is to kill two birds with one stone, thus, to achieve two purposes – to defend Armenia and insure it from international sanctions claiming that Azerbaijan is not interested in cooperation.
Surely, Mr. Warlick and other defenders of Armenia understand that Azerbaijan will cooperate neither with the aggressor state nor with the separatist regime formed by it until the occupation is stopped. Thus, the enemy and its defenders will get a chance to express their opinions on the readiness of Armenia to constructive cooperation towards the elimination of the occupation. And they will try to demonstrate to the international community that Armenia is ready for cooperation and that Armenians are peaceful, however, Azerbaijan doesn't cooperate and doesn't want to establish peace in the region. So, on the one hand, the proposal of American co-chair James Warlick aims at undermining the international image of Azerbaijan and to convince the world community that as if Azerbaijan is a non-constructive state, on the other hand, this proposal messages to international organizations on the fact the aggressor Armenia is under umbrella of immunity and it's not advisable to apply sanctions against it. Therefore, this proposal can't be a coincidence. It is directed against Azerbaijan and supports the aggressive policy of Armenia.
"KarabakhİNFO.com"