31.10.2014 | 17:21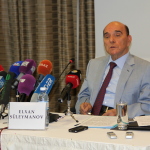 Two very sensitive issues directly related to Azerbaijan were discussed in the PACE's Legal Affairs Committee, meeting in the Spanish Parliament in Madrid. A hearing, followed by questions and debates, was held on the revised introductory memorandum on "How to prevent inappropriate restrictions on NGO activities in Europe" prepared by Rapporteur Yves Cruchten, Socialist MP from Luxemburg. An important part of this document heavily attacked Azerbaijan, but was based on wrong facts, and jumped to biased conclusions.

Next to that Rapporteur Pedro Agramunt, Popular Party MP from Spain, proposed his Information Note on "Azerbaijan's Chairmanship of the Council of Europe: What follow-up on respect for human rights?", which deals in particular with individual cases of alleged political prisoners. As the rapporteur also included standpoint by Azerbaijan on most issues, not only one-sided standpoint of NGOs, this text was more balanced, as it reflects both opinions on this sensitive matter.

I was satisfied with the fact that this time the text is not one-sided, as it was the case with all previous PACE documents on this issue, and I stated: "Being myself member of this distinguished Legal Affairs Committee, I got the request by rapporteur Agramunt to formulate and transfer to him detailed considerations about issues and individual cases he raised. The rapporteur included most elements I proposed, and during the meeting I expressed my gratitude to him for doing so".

I emphasized again the need for a legal approach "Nevertheless, I wish to call both Rapporteur and members of this Committee to have a look at this matter from a strictly legal perspective. Today we are hypnotised by one or another individual case of an alleged political prisoner, according the level he is well-known, a political friend, beneficiary of foreign grants that we know, and so on. Today we can of course draft any list here, copying at random a list from one or another NGO, as it was done here by the Rapporteur. In both cases if such a list will be adopted or voted down, it will always be the result of one or another random current political majority, in a political body. Therefore, at the end of the day our list will always be a "political" list, it can never be a "legal" list", I concluded.
I directly adressed my colleagues in the Committee, saying that "a legal assesment should never be the result of a political debate and a random vote. We are no judges and this is all about the essence of the rule of law. The individual cases of political prisoners are a very clear legal issue. As a member of the Council of Europe, Azerbaijan joined the European Convention on Human Rights and is member of the European Court on Human Rights. Every Azerbaijani citizen is entitled to apply to the European Court of Human Rights."
Several Committee members supported my approach, telling that "individuals, who claim that they are political prisoners, as well as individual politicians, NGOs and international organizations should prove that these people are political prisoners on the court level", and "only the court can decide who is a political prisoner, and who is not. This is not the competence of politicians and human rights defenders. This is a legal issue and is on the competence of courts. Some of us show the pretence to take over the competence of the court, but this is not our responsibility, nor our competence."
Rapporteur Agramunt also highlighted some new and unexpected elements, from a fresh approach, which could clarify why Azerbaijan untill today was the subject of so many and repeated allegations on human rights "majority of alleged political prisoners were imprisoned on charge of tax evasion and illegal entrepreneurship. This strange accusation surprised me and it drew my particular attention. This tax evasion matter is apparently directly linked to the fact that several unregistered NGOs receive substantial financial funding from abroad, not declaring it, also not declaring the part they use for personal salary. Please note in this context that some of these NGOs never applied for registration, but nevertheless received important sums of money on their accounts. Those activists, who in this regard got caught by financial department, get accused and sentenced for tax evasion. We all know that full transparency on transfers of public money from abroad, to support political parties, civil society groups, or individual activists, is good common practice in most member states" the rapporteur stated, concluding that "by the time I will present my report, I absolutely want to clarify this delicate issue."
But even more interesting was the rapporteur's view from a much broader perspective, being the geopolitical position of Azerbaijan as a major player on the global energy market "it's quite surprising that most public money funding to opposition parties and activists is provided by countries who are directly in competition with Azerbaijan on this global energy market. Some will say that this is a coincidence, but when you closer investigate from this perspective, it becomes more and more obvious that other interests are involved. Why are activists from such a small country receiving so huge foreign grants, totally in disproportion to grants donated to activists in other young democracies? So, also this aspect I wish to further investigate. It will be interesting to list up in detail all substantial financial efforts from donating countries and their possible concurring interests in other fields than human rights."
All these considerations gave way to very intense debate, but I expressed my hope that this new approach on so-called political prisoners issue will open the eyes of Europe.
But before the debate on this information note, a hearing and debate took place on the revised introductory memorandum on "How to prevent inappropriate restrictions on NGO activities in Europe" prepared by Rapporteur Yves Cruchten, Socialist MP from Luxemburg.
"With regard to this debate I prepared a comprehensive document including factual replies on all one-sided and vague allegations against Azerbaijan, case by case, and" I told, "this document was distributed to all Committee members in order to expose the improper approach of the Cruchten memorandum."
During debates I focused attention not only on functioning, but also on financing of NGOs "the Azerbaijani legislation wants all financing of local NGOs by foreign sources to be transparant and therefore officially declared. This rule is applied in all PACE member states. In Azerbijan however, in most cases foreign grants are not declared by their beneficiaries at all. Benificiary opposition leaders and activists evidently don't like to pay income tax on the part that they use as personal income. This is a criminal offence, but they know they will be publicly backed up by international NGOs if ever they get sentenced and eventually get in jail. Moreover, they can now expect to become famous, they get international prices and rewards for human rights, and yes, being suddenly famous, they can count on even bigger foreign grants in the future. We have plenty of such examples in my country, no need to quote them", I declared.
And I continued "it's crystal-clear that foreign corporate interests instigated recently several revolutions in many countries. Today these countries suffer from ongoing bloody civil wars, thousands of casualties in the civil population, total deadlock between communities, and dangerous outfall all over the world. We see today that similar interests wish to undermine our state and our institutions. One way to do so, is by financing local NGOs, who in return prepare so-called lists of political prisoners. We want you to know that so-called games of political pisoners prepared on demand will not succeed anymore. These people, who draw the attention to the so-called problem of political prisoners on demand, have one single goal: to present Azerbaijan as an authoritarian country, to damage its image, and to shift international attention from the fact that Azerbaijani territories are under illegal occupation by another member state. They simply serve the aggressive Armenian policy towards my country", I explained to my Committee colleagues in Madrid.
At the end of the discussion, I made a public appeal to my European colleagues, declaring "I believe that all this ongoing hypocrisy should now stop.", I concluded.
Elkhan Suleymanov
Madrid, 31 October 2014.
"KarabakhİNFO.com"