14.09.2012 | 14:00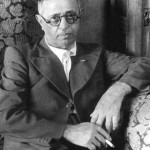 Hajibeyov founded the opera genre in Azeri music. When his opera Leyli and Majnun premiered on January 12, 1908, Azerbaijan became the first Muslim nation in the world with national opera. His enormous success inspired Hajibeyov to write the operas Rustam and Sohrab, Sheikh Sanan, Asli and Kerem (about the love of the Armenian girl Asli and the Azeri man Kerem), and Shah Abbas and Khurshid Banu, and the musicals Husband and Wife, Meshadi Ibad, Arshin mal alan, and so on, which became classics of Azeri music. The musical comedy Arshin mal alan became famous worldwide and has been translated into many languages.
In 1932 to 1937 Hajibeyov wrote his masterpiece, the Koroglu opera. This is considered the greatest Azerbaijani opera.
Uzeyir Hajibeyov was also a talented playwright who wrote the librettos to many of his own operas and musicals. He left behind a school of talented composers and musicians, and is considered the father of Azeri classical music.
Hajibeyov was also the composer of the Azerbaijan national anthem, which he composed during the time of the Azerbaijan Democratic Republic (1918-1920).
Maestro Niyazi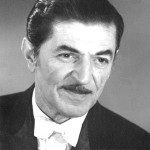 Niyazi was one of the greatest conductors of Azerbaijani classical music. He was the son of Soltan Hajibeyov (Uzeyir Hajibeyov's brother, also a famous composer). Having conducted in the symphonic orchestras in Prague, Berlin, Budapest, Bucharest, New York, Paris, Istanbul, London, Tehran, Beijing, etc., Niyazi made Azeri classical music world-famous. He captivated listeners with his energy, high artistic performance, and musical talent.
Niyazi was not only a great conductor but also a talented composer. His compositions always combined a national coloring with the methods of classical symphonic music. The symphonic mugham Rast composed by Niyazi (a mugham is an original improvisational classicsl folk music popular in Azerbaijan) also successfully applies Azeri musical folklore to the symphony genre and to classical music in general. Rast was included in the repertoire of many symphonic orchestras around the world.
Niyazi also headed the Azerbaijan Symphonic Orchestra for 46 years from 1938 to the end of his life.
Bul-bul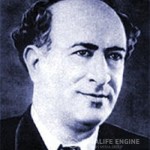 One of the best representatives of the Azeri vocal arts, Bul-bul (his real name was Murtuz Mamedov), was born in Shusha in 1897. Since childhood he was fascinated with the beauty of his native Karabakh, which inspired him throughout his life. Having listened to famous Karabakh singers and learned from them, he himself eventually started to participate in the local Karabakh festive companies. These folk companies gave young Murtuz his first musical education. Because of his beautiful voice people called him Bul-Bul, or "nightingale."
Bul-Bul performed the old Azeri folk songs with great inspiration and love. No one else could so skillfully sing the folk songs "Susen sunbul," "Yakhan duymele," "Qalada yatmish idim," "Segah tesnifleri," and many others.
Bul-Bul was also a great opera vocalist who graduated from the Azerbaijan State Conservatoire and the famous Italian La Skala. He was the first to play the role of Koroglu in the opera of the same name by Uzeyir Hajibeyov, and he created an immortal image of the Azeri legendary hero. Uzeyir Hajibeyov used to say that he counted mainly on Bul-Bul when he was writing the Koroglu opera. Above all, finally, Bul-Bul was a pedagogue who brought up a whole generation of young talented vocalists.
Abdulbagi Zulalov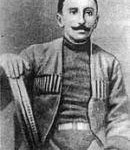 Abdulbagi (also widely known as Bulbuljan) was born in 1841 in Shusha and became one of the brightest and most beloved mugham singers (a mugham is an original improvisational classical folk music popular in Azerbaijan) in the whole Caucasus. In 1875 he moved to Tiflis (the 19th century name for Tbilisi). In Tiflis he began to perform mughams with the great tarist Sadikhjan, who was also from Karabakh. Soon their names became popular not only in Tiflis, but in all of Georgia. In a short period of time Abdulbagi learned the Georgian language and began to perform Azeri mughams in Georgian.
Abdulbagi was also a teacher who had very talented disciples. Such masters of mugham as Jabbar Karyaghdy, Musa Shushinsky, Meshedi Mamed Farzaliyev, Alesker of Sheki, Seyid Shushinsky and many others learned from him. Zulalov's family, also, is known in Azerbaijan as a musically talented one. Abdulbagi's daughter, granddaughter, and nephews, Aziza Khanim, Sona Khanim, Ali, and Gambar, continued the family's muscial tradition.
Jabbar Karyaghdy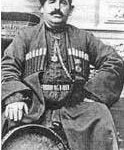 One of the greatest Azeri folk music singers, Karyaghdy improved mugham (a mugham is an original improvisational classical folk music popular in Azerbaijan), bringing a new spirit, a new shape, and new content to it. Karyaghdy was also one of the founders of the Azerbaijan State Conservatoire where he also taught for a long time. He was the father of a new musical school in Azerbaijan, as well. Such famous singers and musicians as Bul-Bul, Seyid Shushinsky, Kurban Primov, Sasha Oganezashvili, Zulfugar Adigezalov, and many others have been followers of this Karyaghdy school.
Seyid Shushinski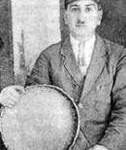 A prominent Azeri singer with a wonderful voice, Seyid Shushinsky was born in 1889 in the village of Horadiz in Karabakh. He developed his interest in folk music and in mugham in childhood. He got his first musical education in Navvab's musical school in Shusha. Soon Seyid became popular for the mughams and songs he performed. Seyid Shushinsky had an excellent musical memory and a great talent for performing. He brought many new elements to the mugham and enriched that art form.
Khan Shushinski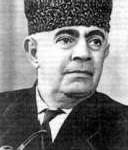 Also a famous Karabakh singer, Khan Shushinsky became a beloved national singer of Azerbaijan. He continued the traditions of Jabbar Karyaghdy and raised them to a new artistic level. He further improved the mugham, creating new forms. He was also the author of several folk-style songs. Among these are the famous "Shushanin daghlary" (the mountains of Shusha), "Menden gen gezme," "Ay guzel," and others.
"KarabakhİNFO.com"