19.12.2014 | 16:55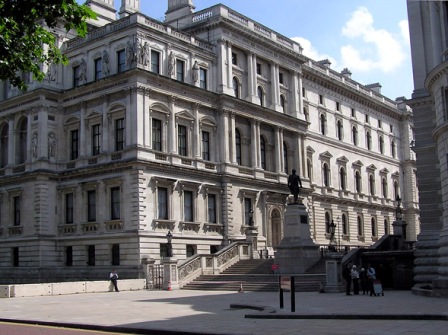 A new report by the UK Foreign and Commonwealth Office (FCO) – 'Armenia's Diaspora – It's Role and Influence' has recognized the part played by the Armenian diaspora in fuelling the ongoing Armenian–Azerbaijani conflict over Nagorno-Karabakh, the FCO said Dec. 19.
This occupation – which has continued for over 20 years – has resulted in 875,000 Azerbaijani refugees and internally displaced persons (IDPs) remaining in camps spread across Azerbaijan, the report says.
This has also bankrupted the Armenian economy, as borders with two neighbours – Azerbaijan and Turkey – have remained shut since 1993, increasing Armenia's reliance on Russia.
"It has consequently not benefited from any of the current or future energy pipelines carrying Azerbaijani oil and gas to Europe," the report says. "Instead, the country is set to join the Kremlin-led Eurasian Customs Union on 1 January, despite the fact that international sanctions on Russia are, in turn, having a detrimental knock-on effect on the Armenian economy."
Armenia has the smallest economy and smallest population in the South Caucasus. According to the FCO report, it is estimated that the Armenian population only amounts to 2.9 million persons and has shrunk by almost one million since 1992.
The diaspora Armenians are continuing to shore up the ailing Armenian economy.
Since 1991, the country has received several billion dollars' worth of financial support from US-based diaspora Armenians.
Another example quoted is that of Armenians working in Russia, who are calculated to have accounted for 15 percent of the Armenian official GDP in 2008, although it is possible the figure may be twice as high today.
The Armenian diaspora has also made sizeable contributions towards the Armenian economy, health and education, including subsidizing those regions of Azerbaijan that remain under illegal Armenian occupation. These areas have received high levels of diaspora support, both in terms of funding and technical assistance, the report says.
"The diaspora is steadily bankrupting this small nation, ensuring that it remains totally dependent on Russia, and vetoing any moves towards a peaceful diplomatic solution, based on international law," the report says.
The conflict between the two South Caucasus countries began in 1988 when Armenia made territorial claims against Azerbaijan.
As a result of the ensuing war, in 1992 Armenian armed forces occupied 20 percent of Azerbaijan, including the Nagorno-Karabakh region and seven surrounding districts.
The two countries signed a ceasefire agreement in 1994. The co-chairs of the OSCE Minsk Group, Russia, France and the US are currently holding peace negotiations.
Armenia has not yet implemented four UN Security Council resolutions on the liberation of the Nagorno-Karabakh and the surrounding regions.
"KarabakhİNFO.com"