29.04.2015 | 20:53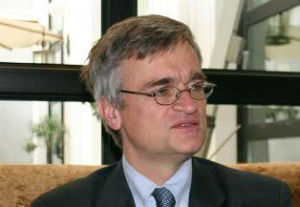 The former EU Special Representative for South Caucasus, current Swedish ambassador to Afghanistan Peter Semneby has been removed from the "black list" of Azerbaijani Foreign Ministry, spokesperson of the country's Foreign Ministry Hikmet Hajiyev told Trend April 29.
Semneby sent a letter to Azerbaijan asking to remove him from the list of personas non grata of the Foreign Ministry, said Hajiyev.
The diplomat said in the letter that on the eve of ending his tenure as EU special representative, he paid an unofficial visit to Azerbaijan's occupied territories in order to better understand the Armenian-Azerbaijani Nagorno-Karabakh conflict, said the spokesperson.
Semneby expressed regret for visiting Azerbaijan's occupied lands without notifying the Azerbaijani side in advance and apologized.
Hajiyev added that after considering this appeal, it was decided to remove Semneby's name from the "black list" and he was permitted to take part in the 3rd Global Shared Societies Forum in Baku on Apr. 28-29.
The visits to Nagorno-Karabakh and other Armenia-occupied regions of Azerbaijan without Azerbaijan's consent are considered illegal, and the names of the persons who made these visits are included on the "black list" of the Azerbaijani Foreign Ministry.
The conflict between the two South Caucasus countries began in 1988 when Armenia made territorial claims against Azerbaijan. As a result of the ensuing war, in 1992 Armenian armed forces occupied 20 percent of Azerbaijan, including the Nagorno-Karabakh region and seven surrounding districts.
The two countries signed a ceasefire agreement in 1994. The co-chairs of the OSCE Minsk Group, Russia, France and the US are currently holding peace negotiations.
Armenia has not yet implemented the UN Security Council's four resolutions on the liberation of the Nagorno-Karabakh and the surrounding regions.
Trend.az