04.09.2014 | 12:10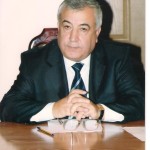 Malik Isakov: "At the beginning of August of this year fighting started on the front line. At that time, the words were legible on the face of everyone "we return".
On August 31, 1993, Gubadli, one of the earliest human settlements in the province Zangezur, which has high mountains, rocks, cool springs, beautiful forests, fertile land, rivers, was occupied by Armenian . More than 30,000 people of Gubadli have been forced to become internally displaced people. Since 1988, hundreds of people in this district have heroically fought on behalf of the country and have become martyrs.
Today, the people of Gubadli, including the Head of Executive Authority of Gubadli district Malik Isagov, were forced out of their homes. Malik Isagov talked to "Karabakhinfo.com" International Electronic Journal about his memories and homesickness of Gubadli people.
Mr. Isagov, it has been 21 years since the people of Gubadli are far from their homeland. How is difficult for them to live away from homeland?

-We had to leave our homeland for 21 years. We miss the beautiful climate and mysterious nature of Gubadli. Only those who have lived our destiny know how painful it is to leave the graves of their loved ones in the hands of enemies. On August 31, 1993, Gubadli district was occupied. So since that day, the people of Gubadli live a life of IDP.

Although there has been established comfortable living conditions for internally displace people nothing can be substituted the native land. When you look the faces of Gubadli homesick people you can feel the sorrow. Homesickness is a great sorrow. I don't wish anyone to have to be left the homeland.

How do you remember the occupation of the district?
-On August 29, 1993, a referendum was held. For this issue, I went to Gubadli to monitor the referendum. On August 30, during the day, I returned to Gubadli. Unfortunately, Gubadli was occupied on August 31.
Mr. Isagov, how much has the district damaged?
– The district has damaged of $ 1.5 billion. During the occupation, a town, 93 villages, 6988 houses, 8 industrial plants and 1080 agricultural properties, 32 communication centers, 86 health centers, 180 cultural centers, 74 educational institutions, 125 commercial properties, 96 public facilities , 25 units of domestic services, 48 agricultural enterprises and 6 industrial enterprises, 650 km of highway, 9 bridges, 2 water tanks, 150 kilometers of water mains, 4,830 km of power lines, 165 km of main gas pipeline, 146 offices, buildings of enterprises, 18 mills, 4 water pump stations, 120 units of electrical substations and transformers were destroyed. 13365 hectares of forestry areas were occupied by the enemy. Armenians looted Museum of History and Ethnography of Gubadli which were displayed more than 5 thousand unique exhibits.
How good place was Gubadli? Give brief information about Gubadli for those who have never seen it, please.

-There were 3 rivers in the district Gubadli: Berguchad, Hekeri and Agha. There were dozens of historic monuments in Gubadli. There are over 600 springs that are rich in mineral substances. Among them we can mention ' Shirin bulag ', 'Imamzade' in the Memer village, and 'Tursh su' and other spring in the Goiyal village. There was a stone mine in Hajili village. Thus, a marbled limestone mine was located near the villages Aligulushagi, Gudanli, Muradkhanli, Bacharat.
During the occupation, how many people were taken hostage by the Armenian and do you know anything about their fate?
-Approximately more than 100 people were taken hostage. Most hostages were old people. I do not believe they are still alive.
It is no secret that Gubadli people want to go back to Gubadli …
-Yes, it's true. In early August of this year, the battle has been launched in the frontline. At that time, the words were legible on the face of everyone 'we return". Today, Gubadli people are waiting for the order of the Supreme Commander-in-Chief "

They support President Ilham Aliyev's policy. If the Supreme Commander –in-Chief decides to restore our territorial integrity by military means, the brave men and women of Gubadli are ready to go to the frontline weapons in hands.

So we hope that we will return to our homeland. That day is not far away. Because the world countries know that 20% of Azerbaijani territory was occupied by Armenian and they support the territorial integrity of Azerbaijan. I hope we return our country soon.
Gunel Jelil
"KarabakhİNFO.com"