22.11.2013 | 08:41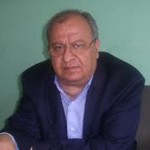 Karabakh culture is the mirror of Azerbaijani culture. Karabakh region has an ancient history, and is rich with material and cultural monuments, literature,art and music.Karabakh is not just a cradle of music and culture but also famous for its well-known intellectuals. How to say the nation loved recognized and accepted with its own geniuses. Shusha is called as "Little Paris", "Conservatory of the Caucasus".
We spoke about thehistory of Karabakh culture with the publicist and translator and researcher VasifGuliyev.
Vasif Guliyev said told " KarabakhINFOcom " e-journal that Nagorno-Karabakh not only region of Azerbaijan , but also in contrast many other regions of the world ,is  more ancient historical place: " Just The Nagorno-Karabakh region is rich with  its history, material and cultural monuments, literature, art and music .Of course,region'snature,climate and wealth of natural resources impacted   artistic thinking and creativity of Karabagh. One of the most important aspects is that folk art is connected with daily life. That is why numerous wonderful models of Azerbaijani folk arts are kept in the world's largest museums of folk arts. Victoria and Albert in London , Paris, the Louvre , the Metropolitan Washington , Vienna , Rome , Berlin , Istanbul , Tehran , Cairo museums we can see rich collections of art whether there Karabakh and Tabriz , Nakhichevan , Ganja , Kazakh , Guba , Baku , Sheki  made  by the hands of skilled craftsmen Shamakha. Thanks to efforts of Karabaghpeople,this region has a long and rich history . Weapons and adornments found in Karabakh are not only a historical fact, but also a valuable source of information skills of the master. "
According to V.Quliyev  , the second half of the nineteenth century  we can consider development and prosperity period in Azerbaijan specially in Azerbaijan , especially in Karabakh . It was   leading intellectuals in scientific and literary language at the expense of a broader development of the language found. Karabakh, Shusha since 1882, began to show a wide range of theatrical performances. In breaks of performances, the famous singers and performers demonstrated their art for the audience:«Famous singers and trio (tar, kamancha and singer) gradually adaption to the culture of the scene provided a new stage of development. Organizing of music assembly, by famous musician – poet- intellectuals directed the development and creation of new forms and their special efforts should be noted. In the nineteenth century , Natavan Karabakh Khan , daughter of Karabagh ruler , Mir Mohsen Nevvab , the famous singer Haji Husu , XarratGulu, Mahmoud Agha
Shirvan , Baku Mənsurovlar , Bakikhanovs families , the famous tar player MirzaFarajRzaev music meetings took part  in their own homes provided  the apex development of the art of music. Famous tar players Mirza Mansur, Ahmed, Bakixanov and many other brothers participated in these meetings. In the nineteenth century,Karabagh art had connections with Caucasus and also neighbor Iran . Karabakh art of the nineteenth century, especially in the development of poetry and musical meetings of the two well-known person- KhurshudBanuNatavan and Mir MohsinNevvab roles were highlighted. She has managed to collect progressive intellectuals, poets and musicians in the Assembly of poetry and literature called " Assembly – UNS".In  "Assembly – UNS"  participants , in exchanged of ideas and tried to spread literary heritage among the masses . Poets of the Karabakh such as GasimbeyZakir , Rebel , Baki , Vafa , Falcon , Katib, Mexfi, Salar , Marty, Hadi , A. Lənbərani and others  participated in this meetings .Well-known poet , painter, mosaic , musician and calligrapher Mir MohsinNevvab role should be highlighted . He knew Persian, Arabic, Turkish languages fluent at the same time had a deep information about philosophy, wisdom, logic, science.
Our interlocutor also noted that, the socio-political and cultural growth in the beginning of the twentieth century leaded U.Hajibeyov laid the foundation of modern culture and oral tradition of the art as a professional music composer, he created a synthesis of creativity . This was caused by the interference of Eastern and Western cultures. In 1908, showing "Leili and Majnun"in the theatre of Haji Zeynalabdin  wasn't only in Azerbaijan, laid the foundation of the Muslim East opera ,Uzeyir Hajibeyov  became the founder of music -opera genre . U.Hajibeyov is also the founder of the musical comedy genre. V.Quliyev has also noted that the ancient Azerbaijani lands occupied by Armenia Nagorno-Karabakh and adjacent regions there are 13, 292 and 330   the most important historical and cultural monuments.
Günel Dzhali
"KarabakhİNFO.com"