14.09.2012 | 19:16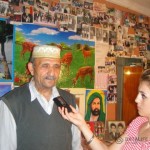 -Could you share yor sorrow with us?
– Haji Sattar Aghayev.The resident of Khodjali city. February 1988 all Armenian fascists were rose up for to combine Nagorno Karabakh to Armenia. Besides tthey began to held some demonstrations. Then Khojali people became against of it and they have got strong answers from us. They have had attacks to Khojali over and again. In each attack of them they made a step back with grievous losses. These happenings became to enlarge more and were resulted in the war. At that times it was called "national conflict". In 1991, on 25th of December Armenians burnt Mesheli village ant its residents. I was working as brigade leader. National army was newly created. Two sons of mine were fighting at that army. I held a meeting with the respected men of village. We prepared protocol that these grey-beard people will go to posts in order to help soldiers. It was contunied like this till the end of the Febryary, 1992. Every evening we held meeting with the leader of military unit. Suddenly, the commender of those military unit came to me and said that there were too much tanks near Dashtepe village. Guess, they are preparing for large scaled attack. I had to go woth him too. I thought that, at least we could managed to overcome them. I saw that, armenians were firing up intrensively. Firslty they began eith airport. One of our soldier – Shakif said that armenians were killing ahiska turks and burning out the houses that live Turks. They were coming nearer to us. The distance between our house and post was approximately 500 meter. Being lack of sufficient weapons and technics, we have made a step back to our houses. I came to my house. I saw that there was no one in the house and the doors were closed. Two sons of mine who fight in National Army, were in the post. But my little son and his mother weren't at home. We had large school that oldies, children and women were used to hide there in order to be protected from exchange of fires. Now people were gathered there too. We saw that o one wants to com to help us and armenians began to burn everywhere. We left for there and went in the direction of ""Qarqar" river. After crossing the river we were divided into two dorections, we went to the Gulabli, Aghdam tohether with mu two sons. I lost my my little son. He was with his mother. I said to my sons that, dont fall behind people. You can go, I will go to search for your little brother and mother. They went and I found my little son and wife and I saw that he felt bad himself. When he saw me he suddenly said that he died of starvation. My legs were paralysed because of anger. All people were gone away, but I couldn't walk, so I left alone in the freezing weather, snow and ice. There was a man 
– Mammad who worked with us, he saw that I couldn't move and thought that I have woundedn. But he couldn't help me too. I didnt agree him staying with me meaninglessly. Then I could manage to find a stick and to contunie. Then I realized that people were stopped, I asked that what is happening?
They said that 
Armenians blocked the way. And skirmish was started. And we couldn't ran to anywhere. Then again everyone gone away, we left alone. I couldn't move. My wife wanted to call help, but everyone was thinking about himself in this panic. I have sent my wife and said that I will coontubie with my little son. That night I stayed in the forest together with my son. The weather was so cold and frosty. I saw two people were coming to us and I felt happy that they are Azeris. But it was found that they were Armenians. I asked for them help. They took my son, and began to kicked me out. I couldn't stood up, I had no power for prtotection of my son. They tied up my legs to each other and carried away to their headquarters. There were a lot of people who know me. I was told in the headquarters that, we know you so we will not kill you. They asked me about Khojali army and "OMON" soldiers. If there was an army in the Khojali no one could occupy there in one hour. They asked if I have son in the military service and of course I said no. They showed me his passport. I went on mad when I heard about him. Again I said that I dont know him and they beat us. Then they carried me away to another place. I couldn't believe in my eyes. All whimpering people were Khojali residents. There was darkness inside. Then they englihtened the room and showed me corpse of my son. It was the last scene that I have ever want to see. Even they didn't allow me to hug him corpse. They carried me to another room and began to torture. They pulled out our teeth with tongs. I hev lost my consciousness. When I woke up, I realized that there is not any tooth in my mouth. Then they chose me and some people like me among from 150-200 and sat on the "KAMAZ". While crossing from the Khojali they were stopped the car, and began to beat us again. Then even they wanted to pass on us with car. But then they have changed their mind. While crossing from the "Khan baghi" they stopped the car again. Ther was a big hollow there. They said that, let's put out all of them here. But then they changed their mminds again. They took us to another place. They have tortured us a lot there. We were suffered from hunger nd thirsty, plus we were beaten till losing the consciousness. As if those Armenians were not human. They enjoyed to torture people. There was a boy near us. They were 3 brothers. Two of them were exchanged but he left. He died for hunger and thirsty in front of our eyes, but we couldn't do anything to help him. We saw everything that beyond humanity. While talking I am suffocating from excitement. As if I am living the same feelings again. After a few days they gave us dry bread. But we couldn't ate, because we hadn't any tooth and our paltes were injured. We put the bread to our pockets. After a few days they gave us water too. They gave a cup of water to 3 people. One day I had to drank a cup of water fully. I wanted to share it with others. But they threated me and didn't let me. At that times I was 55. After 35 days torures, agony and opression we were changed with armenians and were brought to Azerbaijan. Here for some time I had to stayed in the hospital. Anyway…
-What can you tell to youngs as an experienced man?
– I can advice them that dont lose your heart. They should be on guard of their motherland, should be prtoect and serve it. If there weren't foreign supporters of armenians, they couldn't do anything to us. I want to tell to all Azeri people that, let's make free our lands. We have always been strong nation, we have never been grovelled in front of someone. I am 74 now and thanks to God that, I can go to make free our lands. We should liberate our lands with the order of our President. We cant give them our lands. They won't give back our lands willingly. We should come together and decid together. Now it is hight time to defend motherland from enemies. Every boy and girl should take this responsibility. There were a lot of betrayers inside from us and that was why we lost. But if we came together, they wouldnt defeat us. It is better to ee our lands free, than being in bondage. Hope we will liberate our land. With the help of the President soon. I am living with this hope.
Aysel Talıblı
"KarabakhİNFO.com"