25.02.2014 | 05:42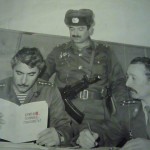 Azerbaijan National Hero, the martyr in Khojali massacre, mayor Alif Hajiyev is known to everyone.
In a few days we're going to commemorate the 22nd anniversary of Khojali tragedy with pain in our hearts as every year. We feel responsibility to remember National Hero Alif Hajiyev who sacrificed himself in this massacre. We met his sister Mina khanum to write about his heroism. As for Mina khanum, she lost 16 close relatives of hers, two of them being her brothers: Suleyman and Alif. It is very difficult to memorize those events and to talk about them. Mina khanum remembers the happenings as a witness like this:
He used to love fishing…
We were 4 brothers,2 sisters in the family. Alif was the third child of the family. I don't remember his childhood as he was older than me. But my mother told us much about him. She said Alif was a very flexible child. He used to earn living from his childhood . he used to go fishing as a child. In 1971 he joined the army. He served in Minsk. In 1973 he left the army and worked as a driver in Autotransport Institution of Khankendi.
He got married with Galina in Minsk…
In 1974-1984 years he worked in various positions in the organs of internal affairs of Belarussia MIA and Azerbaijan SSR Authentic Region of Nagorno Karabakh. He started Special Secondary Milis School of MIA of USSR named after Frunce. Finishing that school in 1979, he continued his education in the Academy of USSR MIA. At that time he got married with Galina Khanum. Later he started working in the department of crime searching in the city of Arkhangelskiy.
Armenians arrested him for finding a lost child…
Alif was sent to Khojali from Arkhangelskiy and was appointed to the position of area authority. During his position Alif revealed a lot of crimes. It was the exposing of the Armenians. He found a child robbed by Armenians in the baggage of a car and returned him to the parents. Armenians was deeply troubled by that event. They arrested Alif, by an operation group, putting some artificial money into his pocket. He was sentenced to 10 years 4 months' imprisonment in the court in Khankendi with the words of liar witnesses. He was sent to Nigni Tagil city of Russia for prison.
After Alif's arrest my mother died too…
After Alif was sent to prison he wrote to state formation about his innocence. My daughter Gunel was in the fourth form. She loved Alif very much. Every time when we visited Alif, Gunel wrote a letter to him. Once he wrote such an answer to Gunel's letter: "I feel responsibility to reply to your letter. It seems to me, till this letter is delivered to you, I'll reach you, too. I know that letter by heart. When we wrote to him, my mother always signed at the bottom. After my mother died, we sent the letters to Alif without signatures. We couldn't tell him about her death. But Alif used to feel it, then thought perhaps we had forgotten to sign (she is crying).
When Alif returned from prison all Khojalians were to meet him…
Alif was a prison for 4 years and 4 months. As he had promised Gunel, he was released in 1989 on February 20. We took him from Baku to Khojai with great festivity. All Khojali people came out to meet him. On that day the school were closed and all the pupils joined Alif's event.

He became the commandant of Khojali airport…
One day we were at home, suddenly we saw Alif coming in police uniform. I asked him about it. He answered that he had got justification and was beginning to serve again. I got very nervous and asked him why he was joining those problems again. He became a commandant of Khojali airport. He was given the title of mayor for his excellent work. He put an end to Armenians' tyranny.
I lost my two brothers that night…
One the night of February 25 to 26 we arrived in Agdam as everyone. I lost both of my brothers that night. My elder brother Suleyman was missed, Alif became a martyr. We don't have any information about Suleyman's fate. My father was also taken a prisoner and only after 2 months' prisoner ship we were able to change him.
Arif presented his cap to a Khojalian child…
That night Alif gave his cap to a little boy when he was returning back after seeing off the inhabitants in the forest. He said: "If I return you'll give my cap back. If I don't, keep it as a memorabilia". The boy is still keeping the cap as the memory from Alif up today.
Alif's dead body remained at the bottom of a blackberry bush for 5 days…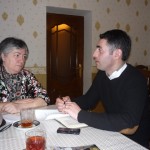 Alif's dead body remained at the botton of the blackberry bush in Khojali for 5 days. He had an employee called Nazim. When Arif was shot he put him at the bottom of a blackberry bush comfortably, covering his body with his jacket. When Nazim took his dead body from there one of the Armenians told him: " if they know that it's Alif's dead body, they won't give it you". For that reason, he brought Alif's dead body hiding it under the other bodies in the car.
I waited and began searching after the others…
At that time dead bodies were brought to the mosque in Agdam. We waited for Alif for a long time, looked for him very much. We were informed that dead bodies had been brought to the mosque. They laid the bodies one by one. I waited and began searching after all. First I saw that it was my father-in-law. Then looking for it, I noticed that the last body was Alif's. Together with our relatives we took their bodies. My father-in-law was buried in Agdam, but Alif was brought to his house in Baku and was buried in Martyrs' Avenue. Everything was done by friends, thanks to them.

Alif is already a grandfather
We are greatly respected as an Alif Hajiyev family. Alif was given the title of Azerbaijan National Hero after his death, with the conclusion No831 signed by Azerbaijan Republic President in 1992 on June 6. One of the streets in Nizami district has Alif's name. his family is normally provided by the government. Alif is already a grandfather. He has a grandson named Davud. Peace with the spirits of all the martyrs!
Finally we thanked Mina khanum for setting time for us and left there.
Vasif Alihuseyn
"KarabakhINFO.com"