05.06.2014 | 14:10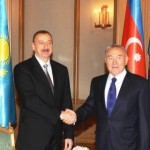 President Ilham Aliyev have had meeting with President of Kazakhstan in Bodrum.Saticfaction about succesful developement of biliteral relations in political, economic and other areas were expressed in the meeting. Existence of good potential of further enlargement of relations was mentioned.
During the meeting  views related solution of Armenia-Azerbaijan, Upper Karabakh conflict were exchanged.
President Ilham Aliyev thanked President of Kazakhstan for support of position of Azerbaijan about membership of Armenia to Economic Union in the meeting of Supreme Eurasian Economic Council.
"KarabakhİNFO.com"