20.01.2014 | 05:56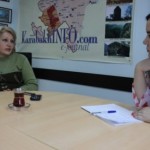 Today, in 1990, 24 years have passed since the terrible tragedy of 20 January. Though years from the date of the incident pass but we pain of tragedy are not forgotten.
One of the victims of Bloody January tragedy on January is Nassirov Shirali. It should be noted that January Shirali, was born in the village in the Agdam region GulablyJanuary 1, 1957. Because of his birth in January, his parents gave him January name. But who could have guessedwho was born in January would farewell with life in a young age in January. He was married. Who sacrificed his life for the motherland and had a half years old a son.
January Nassirov's wife Almara Nasirova works at Baku State University.Shespoke about what lived during the events of January 20 in an interview" KarabakhİNFO.com" e – magazine.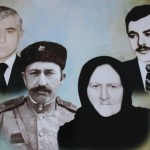 Almara Nasirova said that there was tense situation before bloody January tragedy in the country: "Before the events of January 20, the situation was tense. This strain has been since 1989. All people gathered at Freedom Square. All worried about what will be the fate of all those people. Everyone was unaware of what could happen. Nobody was aware of the events taking place. "
My son felt his father's injury…
Almara remembers that tragic day: "The same day January after work went to Freedom Square again. It has become a habit. Everybody gathered at Freedom Square. Everyone was concerned about the fate of the nation. At that time my son was cryingcontinuously till evening. I child calm down child and he slept. In the evening my son awake suddenly began to cry. I calm down child. Later knew that at that time while my son was crying his father was wounded. In front of Olimp shop bullets hit him and he fell down on the ground. At that at the time the child cried, as if my son felt (when talking about the event Almaracannot hide her tears., 24 -year period, too, the pain of that day she could not forget …) In the same day all of our neighbors gathered and then went together at Freedom Square. But my husband was late and our neighbor Vali told him don't go you have a little child. But my husband rejected and told that I want to go. Thus they all went together»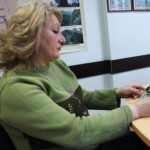 She said she was deeply concerned about a January on the same day:«Till they have gone some process hadbegun. They had gone in the morning. All those who are with him are slowly coming back. There was no means of communication to keep in touch. She waited for him in the morning. His brother looked for him till the morning. All of relatives had assembled. He knew that I 'm worried about, so wherever he was definitely would come. I no longer felt that something bad happened to him. We did not find him in all hospitals. Then I continued to search and found him. The bullet had been run through the heart. We wanted to bury him in the village of Agdam region Gulably. Then, but the officials said martyrs were buried in Highland Park. "
At that time, it was all for one, one for all……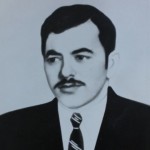 Almara that time's national unity was stronger than it is today: "I wish the unity of the people of that time would be now. At that time, it was all for one, one for all…… Now there is no previous unity of our nation.

January was a patriot, cared for mother, sister and home. His heart was beating with love of country. Loved the village where he was born. At vacation time he was going to the village to visit his mother. "

Why January went?!
We asked such a question to Almara, if he hadn't gone? Why he went? Almara answered this kind of question:«Azerbaijan was his native land. Who shouldn't he go? At that time everyone was ready to give their lives for the motherland. We can say that there was no human being outside. Anyone interested in these events. Everyone was waiting for the end events.

"My son is ready to sacrifice his life for their country "….
Though she brought up her son alone in the way Almara despite all of hersuffering,she is ready to sacrifice her son's life for her country: «Mysonis the son of a patriot. He is very patriotic like his father. He is ready to sacrifice his life for the sake of homeland as the father.
«Bloody 20 January tragedy could not repress our patriotism. Years later, I still feel it is not dead. It is very difficult to live without these occupied lands. This feeling cannot feel who never lived. "
Almara's such speaking once again proves how patriotic she and all Azerbaijani women are.
Sevda Qurbanqızı
"KarabakhİNFO.com"