06.11.2014 | 13:55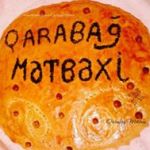 Creating dishes recipes have an ancient history, originally based on the experience of the cook dynasties and these recipes are preserved today.

Our country has gained a reputation as a land of long-livers. Our scientists explain the phenomenon with the propitious climate, sound lifestyle, ecological clean products and proper nutrition principles. Gourmets from most countries in the world admire the delicate flavor of cooking of Karabakh cuisine .

The cuisine has a unique flavor and culinary techniques of the specification, and it manifests itself in the traditions of Karabakh's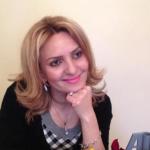 feasts. Dishes have very different tastes and they are beneficial to health and distinguish their aromatic herbs and delicate spices. The traditional Karabakh cuisine is original and unique, they cannot be confused with other dishes of the national cuisine.
It is no secret that the Karabakh culinary art is always welcomed anywhere. Just Zengilan cuisine dishes – Dolma, pilaf, hot dishes can be shown as examples.

Konul Vagifgizi who is psychologist originally from this area talked about the Zengilan cuisine to "KarabakhINFO.com" an international electronic journal.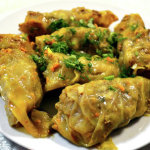 According to Ms. Konul, she learned the features of Zengilan cuisine from her mother and grandmother: " First I want to talk about "Floured umaj helva". For preparing "Floured umaj" you need 200 gr black flour, 1 lt of water, 1 onion, 100 gr melted butter, salt, pepper and ginger. Umaj is eaten hot. It is useful for throat pain and cold.
She noted that, they say "Den dolma" ( grain dolma) must be on the table of every Zengilan person. For preparing this meal 200 gr river bean are boiled, then 300 gr rice is washed and 300 grams of roasted onion, 2 chopped tomatoes, salt and pepper are added to pot.
Zengilan pilafs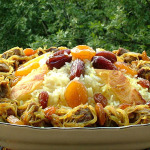 K. Vagifgizi added that, pilaf is famous in every region, as well as Zengilan. A wide variety of types of pilaf are prepared in Zengilan. Our company talked about " Pilaf with cherry " and noted that this pilaf has an ancient history.

For preparing "Cherry Pilaf" 1 kg rice is filtered, 1 kg chicken, 2 chopped onions and 300 gr cherries are added to it. Then drained rice is poured to the cauldron. After evaporating rice 50-60 gr butter is melted and poured on the pilaf.

Ms. Konul gave information about " Pilaf with greens": " Pilaf with greens" belongs to only Zengilan cuisine. For preparing this meal rice is filtered by usual way and different greens are added to it. It should be 2 bunches of every greens.
According to Ms. Konul one of the favourite pilaf of Zengilan people is " Pilaf with penjar" (penjar is a type of greens). 500 gr rice is washed and poured slowly into boiling water and mixed from time to time. Then 2 bunches of marshmallow, 2 bunches of yaglija, 2 bunches of unnuja and 1 bunch of coriander are placed on it. Rice is filtered when greens change their colour. Butter is melted and added to it. Cover of pot is wrapped with a towel and evaporated for 30-35 minutes. It is served hot. When it is eaten, yogurt can be added to it.

Ms. Konul talked to us about procedure of preparation of Zengilan "Basdirma": 6-7 kg meat of goat is chopped and placed to pot like this – a layer of meat, a layer of tomatoes, a layer of pepper and onions. Then this procedure is repeated again. After this procedure 3 pieces of hot pepper, a cup of drained plum and a cup of water are added to it. Cover of pot is closed tightly. Meal cooks for 40-45 minutes on a warm fire.
Gunel Jalil
"KarabakhINFO.com"