17.05.2014 | 13:57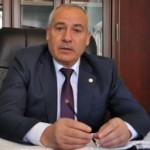 Akif Salimov
The head of the Lachin Region Executive Power,
Karabakh veteran
I remember Lachin as it was. Lachin won't change even if a thousand years pass. I remember it the same as I saw it in my youth. God willing, we'll return to Lachin with the very imagination. I was last in Lachin at the end of April in 1992. Although Lachin was occupied in May, we entered there from the north through Kalbajar region and had battles in the area of Lachin. Until the April of 1992 the area of the region was under the control of our soldiers. After Kalbajar had been in blockade, we had to leave Lachin. I was 42 years old when I left Lachin I imagine it as I saw. The paths, the mountains, the stones all are the same. But we are missing there. If we have manliness, we'll return to Lachin, there is no other way out. Then Lachin will be a real Lachin. Today Lachin citizens' first wish is to return to their hometown. There can't be a second word. The other wishes are connected with social problems. There are real problems caused by being refugees. Of course, it is a fact that some state programmes have been accepted in connection with the care to refugees, that was founded by our great leader. Our president is carrying on this policy successfully. During late 10 years 82 settlements have been founded for the improvement of the refugees home conditions. In late 10 years about 1500 Lachin families have been provided with flats. In spite of all these, the main task is to return to Lachin.
In 1992 Lachin's defence was short of only a government. As a fighting person I can state this confidently. In the May of 1992 there was neither Azerbaijan state nor the army. There was a name of the army and the Ministry of Defence. Properly there wasn't any Azerbaijan public ready for the war at that time. Whereas the Armenians were ready for the May of 1992 as a nation. They were prepared for the war physically and psychologically. Our leaders of that time had such psychology. They though that postsoviet republics couldn't have territorial claims against one another. Our people didn't expect that. The Armenians abused it and consequently we were defeated. But today our people's attitude to the war is different. We have a load of honesty, we must definitely return to our lost lands. Our people must always be ready for the war. A war is a square for killing people. A war isn't a site of humanism. There is such a slogan among Lachin people: "An officer to the army from a Lachin family." An Azeri officer must master the most modern knowledge. I remember my students' year well. We studied military classes at the university at the USSR time. The military lessons were taught for 4 years and officers were prepared for the Soviet Army. Those who got excellent marks were sent to military service as officers. I was one of those officers. I started work activity as an officer in the Soviet Army. In 1988 the known events began firstly silently. Later they becme severe. On borderline regions guns were used against local people. The war was likely to start. Special police troops, were sent to borderline regions, being armed with light guns. The goal was to prevent the shooting on the border. At that time I also participated in the forming of the battalion. We managed to form an organized battalion. At that time Lachin people took an active part in the battles. But in general the population didn't feel that Armenians might have territorial claims. So at the time of the war, in the May of 1992 a government vacuum was created in Azerbaijan. On May 8 after Shusha's invasion Lachin remained between Armenia and Nagorno Karabakh. There were volunters between Shusha and Lachin. On May 14-15 all the volunteers were called to Baku with all their guns. So the area between Shusha and Lachin became completely empty. As a result it became impossible to defend Lachin and we were abliged to leave the land .
Today I'm ready to fight for Karabakh, too. I'm sure about my nation's potential and fighting power. If there is a war we'll definitely win. There is very little time left to return to our lands. I can say confidently that if the war starts minimum 10 thousand Lachin citizens will fight as volunteers. Being without Lachin, Kalbajar and generally Karabakh was a lesson for our people. Our people have high spirits. To be or not to be, we'll return to Lachin…
"KarabakhİNFO.com"