20.01.2014 | 10:28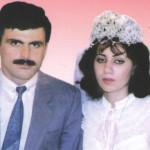 January 20, 1990 event … The day which our people for the sake of our independence stood in front of Russian army unarmed. This year, 24 years have passed since that incident. This war, not only UlviBunyadzadeh, Abbas Gasimov, OktayKarimovmartyrsbut also, worker of Ship Plant Ilhamand 2 months pregnant FarizaAllahverdiyevas made victims of the night. We call themLayla and Majnun» of twentieth century".To remember those events we met Ilham and Fariza's parents.
I took time to each journalist…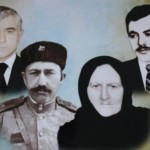 First, we went to visit Ilham'sfamily.Ilham'sbrother answers the phone call. We met on the street and invited us home. Wet thanked for meeting with us.
– After Ilham and Fariza I took time for each journalist. Because thanks their name still lives. Each year, according to the January 20 event approaches, the authors often meet with us. Therefore, know that our door is always open.
We went up in a lift to the house. Family members meet us.
In 1972 we came to Baku…
These days of Ilham's mother, Mrs. Ophelia remembers so:
– My husband Azhdarworked as a driver. With five children we were living at home in the city of Agdam. We didn't have a good living my husband bought house inBaku. In 1972 we came to Baku. My husband died in 1977.
Only Ilham provided his family's livelihood…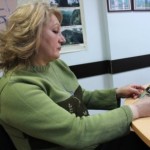 – After his father elder brother Elkhan worked and Ilham dealt with other home needs. Then he entered the Polytechnic University. He studied at university at the same time, worked part-time at the ship. Moreover, in 1988 and 1989 he took part in the rallies.
If you don't go, I don't go who will go??
– I was afraid his participation in rallies. He was coming home late at night. I always told him don't go but he didn't like my rejection so: – If you don't go, I don't go who will go??- He said.
Ilham studied with Fariza…
– Fariza was the daughter of our neighbor. At that time, we lived Alatava. In Ilham's birthday party, I told my daughters what is Ilham's opinion about marriage.Ask, and see what you think then. We said our neighbors and relatives daughters' entire name. But when Fariza's name we rememberedIlham said stop. He said he wants to marry her. We were all happy. Fariza was a really good girl.
They knew each other well. They were engaged for a year. Wedding was on June 29, 1989.
I saw a shoe and a hat on the street…
– At the night from 19 to 20 we were at home.Ilhamhadn't come home yet. Suddenly, I saw something that troubled my heart. Took a chair and went away to sit on the patio. I looked at the sky. The sky was covered by the guns of bullets drop. I went into the street, I saw everybody running. As I approached the boy, asked son, what is the matter? The boy said: "Aunt, the Russian army entered the city, the community is breaking." I ran into the side of the bullet. Along the way, I came across with my son Elkhan. Elkhanreturned me back home. Elkhancame home at midnight, but I could not find İlham. With Elkhanearly in the morning we went to the office on January 20. Along the street I saw a shoe and a little hat. That was my neighbor's hat, which had fallen at. We saw blood along the street.
We saw Ilham's scarf on the table…
– We went to the public hospital. We saw Ilham's scarf on the table at the hospital. I shouted it that Ilham is here. The doctor came. He asked, what is the matter, mother? I said I amIlham'smother I am looking for my son around. The doctor tookElkhanin and told me wait. Elkhan and the doctor came by a little later. I asked where Ilham is. He said: – There is no need for waiting, let's go home, take ID card, it is necessary. When we came home and took ID card, I approached the door and saw Elkhan is no there .The doctor said Elkhan that Ilham was killed.In this way, Elkhan used to take me home.
His last word was so: "Don't tell my mother anything…"
This time Mrs. Ophelia didn'tfeel well, so Elkhan continued conversation,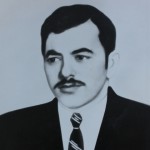 -After his death I felt alone because brother is support.Ilham was a patriotic man.Unfortunately, like many others that night,Ilham was victim of Russian army. He was in military service in Baltic. Therefore, He knew well weapons. That night,he saw in his dream they will kill people with weapons. Therefore, he raises up his hands out in front of the tanks: «Do not fire on the people who are unarmed«When he said these words the soldiers fired him. According to their friends, this was at about 12:15 pm Tuesday. During his operation at hospital, light turned off. But despite all efforts, at around 4:30 pm he died. His last word: " His last word was so: "Don't tell my mother anything…".
Ilham's grave in the cemetery seemed from our house in Alatava…
– When we brought Ilham's body from the hospital, took Aghdam, because we thought should be buried next to his father. At mosque we were said that blood flows from corpse and it is blameful. We have decided to bury him atKhyrdalan Town. Then at about eight o'clock in the evening we have buried İlham. Ilham grave in the cemetery of Khyrdalanseemed from our house in Alatava. We thought we can never comfortable if it is in front of our eyes. Upon arriving home, we know that,Fariza wanted to burn herself. I talked to her, I said,do not act so.
Wedding pictures are falling on the table,looks,and writes ona piece of paper these words: "I cannot live without him. You me …»
– Once they have informed us, but all the martyrs would be buried at "The Alley of Martyrs". I consulted, said the old that can be buried. Fariza knows that night and the next day Ilham's corpse will be buried at "The Alley of Martyrs". Early in the morning she stood up in secret moves the other room. Wedding pictures are falling on the table, looks, and writes on a piece of paper these words: "I cannot live without him. You me …»
She couldn't complete half of the letter. Farizadrinks acetic and suffersalone. My grandmother wait a little that the girl did not come. Then she looks back and sees that,Farizalies down in the room and dies…
Fariza died. On January 22, Ilham and Fariza were both brought home again in "The Alley of Martyrs» buried.
Since 2003, the "Valentine's Day" is celebrated…
– Ilhamand Farizaare examplesfor the youth. When someone knows I am brother of Ilhamall show us a lot of attention and care. Since 2003, 30 June «Valentine's Day" is celebrated. But it has not been officially approved by the state. Many would like to be confirmed by the state on the same day. This is an important day for our people.
I called her Fariza……
Here we complete our conversation ad go to visit Fariza's house in Alatava.When we reached we saw an old woman were sweeping the yard.Elkhan says she is Fariza's mother MrsBagda. We were met by Fariza's father. We started the first conversation in the garden Mrs. Baghda :
– Fariza was very capricious girl. My last child she was. Farizasaid after Ilham'sdeaths that enlarge our picture .She didn't hear nobody'sword. Both Ilham and Fariza's absence alwaysheartsick . My son gave her child Fariza'sname.Nowshe is a third-year student of PolytechnicUniversity. I am proud of both of them, they left behind a name. But in my heart there was a mole. Greatunhappiness, son! Fariza was two months pregnant. But fortune did not give birth to the baby.
Then Choban continues the conversation:
-It is really a great happiness.Seems, so it was their fate. I saw that on the early morning of January 20, the door was knocked. I opened and saw Fariza. She said, Dad, Ilhamhaven't come since evening. Then we went to Ilham's house together and saw many people gathered there. Ilhamhad already been killed. Only God bless our martyrs. We remember it every year.
Vasif Alihuseyn
"KarabakhINFO.com"