07.08.2012 | 15:08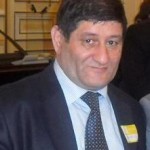 Gafar Chakhmagli
Philosophy Dr. of the political sciences
"Nemezis" is a Greek word; it was taken from the name of Revenge goddess Nemezida. This is a terror movement realized and decided by Dashnaksutyun Party. With the initiative of the leader of terror Shan Natali it was decided to establish this terror movement in October of 1919, in congress held by Armenian Revolutionary Federation (ARF) – Dashnaksutyun Party in Irevan.
The pretext was that as if there were people who organized the murder of Armenian population in Baku in 1918 and they should be revenged. And there were people who made Armenian genocide in 1915. There were ex leaders of Azerbaijan Democratic Republic and Ottoman Empire among people who were murdered. Armen Qaro ( Garegin Basdirmaciyan) who inflicted reprisals to innocent people in Eastern Anadolu lands should lead the operations. They used the offices of "Cakatamart" (front) published in Istanbul and "Droshak" (Flag) published in Boston newspapers as murder headquarters.
About 650 Turkish and Azerbaijanis statesmen' and intellectuals' name was in the list of Nemezis. 41 people among them were declared the "main sinners".
In 1890 Armenian armed struggle organizations were organized in Eastern Anadolu. Their name was Fidayins (Patriots). This bands which joined party members aimed to establish "independent Armenia" and were busy on planning plots against active political members of Ottoman. In 30 July, 1914, in party conference it was decided to pressure on the government with terror operations. Armenians established "Red bazaar (market)" group of ARF. By the way, the terror plan, planned by the members of this group in 24th April of 1915 was prevented by government. The Istanbul Armenians community leaders considered the ministry of internal affairs Talan pasha guilty in this, the members were moved to the prison camp near Ankara in 24th April. Many Armenian activists were exiled to Malta which depended on Great Britain. After Mondos agreement, in 1919, the people who were guilty in murder of Armenians were accused in military court, some were hung. It had political reasons. Winner countries wanted to sentence Ottoman with imagined sins and to give right to the occupation. That is why they used falsified Armenian executions. People who were sentenced wrongful got justification then, because the claims had no base. Armenians arrested in 24th April of 1915 really had separatist activity, and were sentenced as they made lawless activities. But it was not enough for Armenians. In 1919, in Erevan, by the help of Armenian state while the decision to annihilate the leaders of Azerbaijan Democratic Republic and Tereqqi party was given, Armenians knew that this is terror action. In IX head Assembly of ARF, in order adopted in 1919, there were 650 names, 41 of them were the main sinners. It was named "Nemesis". The action leader of the organization was Armen Garo- Garegin Basdirmaciyan and financial support came from the Special Found of Diaspora (the elader was Shahan Satchaklyan). After the year of decision was decided, executions began.
The vice-chairman of Azerbaijan National Republic Parliament Hasan bey Agayev was killed in Tbilisi in 1920. 19th June, 1920. Again Tbilisi city. Ex prime minister of Azerbaijan National Republic Fatali khan Khoyski also was killed, ex minister of Justice Khalil bey Khasmemmedov was wounded. Murder was done by Armenian terrorist Aram Yerkanyan, the other terrorist Misak Girokasyan was also with him. As a result of action, Kirakosyan was wounded.
15th March, 1921. Berlin. The ex minister of internal affairs and sedr-ezem Telet pasha was killed. His name was in the first place of black list of terrorists. The killer of Telet pasha Teyleryan was arrested but he got justification in Berlin court then.
5th December. 1921. Rome. Ex sedr-ezem Seid Hilmi pasha was killed. It was impossible to arrest Arshavir Shirakyan who realized the execution and he came back to Istanbul. Among the organizers of crime was Mikael Vartanyan- the ex ambassador of Armenia in Rome and another man.
17th April, 1922. Berlin. Ex Trabzon govern Camal Ezmi and the establisher of "Teshkilati-Mekhsus", medical professor Baheddin Shakir were killed during family walk. Also the guard of Shakir was killed. Execution was realized by Arshavir Shirakyan and Aram Yerakyan.
19th July, 1921. Istanbul. Ex minister of internal affairs of Azerbaijan National Republic Behbud khan Cavanshir was killed near the "Pera Palace" hotel. The investigation of killer Misak Torlakyan was held in Britain military tribune. They accused him guilty but added they while realizing the crime Torlakyan was in affect situation that is why he had no responsibility for crime. He was sent to Greek. Other participants of crime were Eduard Fundukyan and Harutyun Harutyunyants.
4th August, 1922. The military minister of Ottoman Empire Enver pasha who sent Caucasus Islam Army to Azerbaijan and saved our nation from being destroyed was killed by Armenian named Yakov Melkumov who fought near Afghanistan in composition of Bolsheviks.
25 July, 1922. Tbilisi.
Armenian terrorists from "Revenge" unit which was specialized and established by "Dashnaksutyun" Armenian terrorism organization, killed Camal pasha who was the ex military sea forces minister, Commander-in Chief of 4th army of Ottoman troops in Syria and his assistant. Execution was realized by Petros Ter-Pogosyan and Artashes Gevorkyn. Also Zare Melik Shahnazry and Stepan Tsagikyan participated in organization of execution.There is no meaning who is Hasan Camal for somebody, for me he is only journalist and my colleague. He is well-known in Turkey and his texts are considered seriously as the well-known journalist. Does he deserve the respect in journalist circle of brother country? I cannot tell. But now he is mostly beloved in Armenia. If he would go to there tomorrow, they would cut sheep in front of him. Armenians gave many prizes to people who told their words. These are realities. I read in Armenian press that one of the journalists suggested putting bas-relief of historian named Taner Aksham in front of Science Academy history Institute. Why they should not do this. This man does more work than all Armenia and Diaspora. In the country where there is hatred to all Turks, I give the love to Hasan bey to his responsibility…First of all I should like to give information about this Hasan Cemal. First of all, he is grandson of Cemal pasha who was one of the leaders of Ittihan and Tereqqi. Cemal pasha was killed in 24st July of 1922 in Tbilisi by Armenians.Our colleague Hasan Cemal published new book. It is bestseller. Its name is "1915:Armenian genocide". When I took this book in book shop situated in Kayseri I felt that the seller looks at me attentively. I paged it, in first page there was his simple photo. But this is not simple. In the photo he puts flowers in front of the falsified "Armenian Genocide" monument in Serdarabad (now Tzidzernagaberd) in Armenia. I did not buy it. May be I did not want to give profit to him. In such situations seller do not tell you their dissatisfaction but they are not satisfied with you. But in this case the young seller liked how I throw that book on the shelf like the old rug. And he asked me to drink tea. I sat.
–          Do you know who is he?- he asked me
–          I know. He is grandson of Cemal pasha- I said.
Also I told him that I visited the grave of Cemal pasha in Erzurum in May of 2012 while I participated in symposium named "Armenian-Turkish relationship and Big Forces". Considering the interest of book seller I tried to tell him shortly about the events happened in that date. Though the seller was young he was educated. He listened to me.
..The grandfather of the author of this book Cemal pasha was killed by Armenian terrorist in Tbilisi. A year before another leader Telet pasha was killed in Berlin. Another leader of Ittihat and Tereggi, the defense minister of Ottoman state Anver pasha also was killed by Armenians. In 1908-1918, one of the leaders of Ittihat and Tereggi party Camal pasha also did his best for Armenians in hard period. Despite of this here could be many reasons why he was killed. Many people knew that he was executed as he was Turk.
Yes, in Tbilisi, in 21th July of 1922, at 22:30, Cemal pasha was exposed to attack of group consist of ten armed men get out of the car in the corner of Yukovski street where the building of CEKA- secret Russian police and Big Peter street was situated, while he was going back to the hotel he stayed from the party where he participated in with his adjutant Nusret and Sureyya bey. First the gun shot was heard, Armenian bodyguard named Garegin Dilanyan who wanted to interfere the events was killed. In the second shot an unknown woman was killed. Then the shots like drum-fire began. Young adjutant Sureyya bey wanted to guard pasha but he was shot. Then Cemal pasha and Nusret bey were killed too. Cemal pasha who got three bullets from his neck and waist and Nusret bey who got give shots died there. Sureyya bey who got one bullet died in the hospital.
Nobody was arrested that night. The next day two Armenian officers, one of the Dashnak patriots Qaregin Lalayan and Sergo Vartanyan were arrested. Of course, they participated in the attack too. But the main order was given by Artashes Gevorgyan (code name Dzaigyan) and he ended the order. Armenians then confessed about this crime while they were praising that terrorist. Everybody who kills Turks, as Armenian ideologist Njde says, are national patriots and Armenians of course did not hide this "patriotism".
On the same day, for the bodies of Camal pasha and his adjutants there was remarkable funeral ceremony in Shah Abbas mosque situated in Tbilisi, with participation of nation, foreign representatives and Red Army units and with the permission of TUNC and Mustafa Kemal Atatur and by organization Kazim Qarabekir pasha they were buried in Erzurum. After 90 year I could visit that grave with the help of my friend prof. Erol Kurkcuoglu who is the head of Armenian-Turkish relationship Center in Erzurum Ataturk University.I do not want to open history here and I just want to note to the reader that the grandson of such grandfather should at least proud of his grandfather. Even I do not speak about the revenge from who killed him. But look what this Hasan Cemal does? He goes to Irevan in 2008 for the first time, puts flowers on "Armenian genocide" monument and takes photo there and meets with his father's killer Artashes Gevorgyan's grandson and apologizes from him…
I have watched to documentary named "The answers of grandchildren" about how Hasan Cemal put flowers on that monument and met the grandson of terrorist by analytic of Armenian "Shant"TV Artyom Yerkanyan in Armenian language and I showed in my article then how that movie insulting Turks. In that documentary Yerkanyan speaks about Turkish Armenian sides, makes comparisons and takes results. One of the side if Armenians with high culture, other side is barbarian society Turks. Look at the result of movie taken by Yerkanyan at the end: "It is not difficult to work with people who understand you about the recognition of genocide. Even in Turkey there are such people…" It means Armenian need such people (may be frank people) in order to realize Armenian lie and to base their thoughts. In this case Hasan Cemal and tens of Turks like him are like instrument in their hands. Look at the general view of documentary: in one side there is a upright stand of proud grandson of terrorist who revenged and this grandson declares openly that is today his nation demands he can repeat the acts of his grandfather. .. In the other side Hasan Cemal who went and prayed on some scoundrel Armenian for the "sin" his grandfather done in guilty appearance. Is it possible to accept this? Who put Hasan Cemal to this miserable situation? Of course himself. May be his Hrant Dink love which he repeats often (by the way, that book was not written to memory of his grandfather, it was written to memory of Hrant). He does not have any way from this situation. This book is the continuation of the situation, or in reality obligation. In this case Armenian propaganda machine gained upper hand over Turks. Hasan Cemal was a surprise for Armenians. That movie, that book does not propaganda peace of friendship. That documentary just insults Turks in personality of people who put meaningless thought like "to apologize" from Armenians like Hasan Cemal, Ahmet Altan, Ali Bayramoglu and so on. Despite of all of this, though Hasan Cemal knew that there was not any genocide against Turks, he says for "Hrank Dink love" these words: We should share the 24th April tragedy of Armenians as a human and as a state".In "1915: Armenian genocide" book this thoughts are continued. You think that Armenians says "thank you" to Hasan Cemal for these words and they will put him on head for these thoughts? They will put him monument? Absolutely no. Hasan bey is for them just Turk who was lied and lost his way, put three flower on "Armenian genocide" monument, confessed such "confessions" in museum there and wrote such book. They can show him the same things they did with his grandfather. .. people like Hesam Cemal do not know Armenians. Generally there is a problem of not knowing Armenians in Turkey.And the revenge of Cemal pasha is not done yet. In that time Armenian officers who were arrested were freed as there were not enough proves. The name of the main terrorist was not called. Even today that investigation is not finished yet. If Hasan Cemal would begin to investigate that murder while he was in Irevan, or even he would show some initiative, he would be respectable man. But so pity that he went to another way. I do not believe in that this way was chosen by him and he went to Irevan by his initiative, I don't believe in that he could write such book by himself and claims there was genocide against Armenians. So Memmedeli Birand. He wrote an article about terrorist leader Ocalan and told that he should free from home arrest and enter to parliament. As if Birand did not know that, Ocalan's hands are dirty with blood of 30 thousand people and blood is poured even today. As if grandson of Cemal Pasha, Hasan Cemal does not know that the "Armenian genocide" is just slander. He knows. There was Turkish genocide in reality. Journalist Ali Kemal in the beginning of last century knew this too but he blames his nation pretending "Western child". Such things are not forgettable. That is why people went to Istanbul streets with slogans: "Yesterday Ali Kemal today Hasan Cemal!". Then Hasan bey was walking with bodyguards. Nobody could kill him; Turk does not kill their child even if he is betrayer. Danger can come from Armenians to Hasab bey even if he does not feel this. Because of people like Ali Kemal so many innocent people were taken to gallows. Hasan Cemal's this book is like that. He tries to take Turkish society, nation as killers to gallows. I could not name it another way.
The execution of people like grandfather of Hasan Cemal, Cemal pasha was done in order to realize the "Big Armenia" illusion. Statesmen of Azerbaijan and Turkey were killed as they wanted to prevent this dirty aims. The main victims of Armenian terrorism were peaceful people, also well-known intellectuals and officials of two brother states. Armenians understand that people who they sentenced to death are faithful to their lands and nation and only death can turn them from this way. That is why the main aim of terrorists was to kill the leader intellectuals of our nation. Terrorist is not considered hero in any place of the world. Contrary, they are damned as a person who gives shame to the nation.  But there is a different relationship to terrorists in Armenia. These terrorists are heroes as they killed Turkish leaders. Their birthdays and death days are celebrated and they are presented to nation as "your enemy is Turk and to kill them is the debt of every Armenian". Remember these "heroes" who realized Nemesis. Let it be historical lesson for us. This is the list of them:
Armen Garo (G. Basdırmachıyan, 1872-1923)
Shahan Natali (1884-1983)
Misak Torlakyan (1894 -1968)
Arshavir Shirakyan (1902 -1973)
Aram Yerkanyan (1895 -1930)
A. Gevorkyan
Petros Ter-Pogosyan
Stepan Tsagikyan (1886 -?)
Sogomon Teyleryan (1897 – 1960)
"KarabakhİNFO.com"