18.07.2013 | 16:17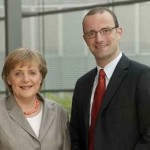 Answering questions from The European Azerbaijan Society (TEAS), Jens Spahn, member of the German Bundestag (CDU/CSU), member of the Health Committee in the Parliament, expressed his opinion on the Armenian-Azerbaijani conflict over Nagorno-Karabakh:The Committees of the United Nations are well familiar with the conflict. The World Security Council demanded unanimously the immediate withdrawal of Armenian troops from the occupied territories already in 1993 through the resolution 822. This resolution stays valid until today and is being supported by Germany.
Every state's fortune depends on the preservation of it's territorial integrity. This is especially true in the case of Azerbaijan because parts of country are being occupied through foreign military. The State Territory of Azerbaijan has to be completely restored, as demanded by the World Security Council. This way opportunity would arise for the refugees to return to their homeland.
Last year Azerbaijan and Germany celebrated the 20th anniversary of diplomatic relations. On that occasion, the Federal Government announced a further deepening of bilateral cooperation between the countries. Azerbaijan is an important partner of Germany in the South Caucasus.
Germany works with insistence especially within the European Union towards a solution of the conflict. In this process it is important to abstain from all provocative measures between the two sides. Only then can the negotiations be carried out within a sensible framework. But for instance the reopening of the Khojaly airport by Armenia complicates the continuation of talks. The airport lies in Nagorno-Karabakh which is according to the United Nations an integral part of the Republic of Azerbaijan.