27.03.2015 | 12:46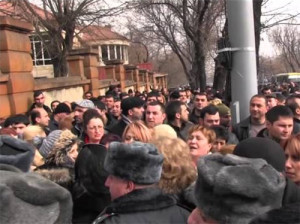 Mothers of the Armenians: "Accusing a soldier family of the murders, suicides and violence in the army is the popular method of Armenia's Defense Ministry"
Parents of the deceased servicemen have today staged a protest outside thePresidential Administration of Armenia.
APA reports quoting Armenian media that the protestors chanted slogans against Armenian Defense Minister Seyran Ohanyan and required to disclose the cause of their children's death.
The parents of the soldiers expressed their anger for Armenian soldier Andranik Grigoryan's family and parents being accused of that he voluntarily crossed to the Azerbaijani side. They urged Ohanyan to create discipline in the army, eliminate the chaos and provide the soldiers with food and clothing.
Irina Ghazaryan, who lost her child under non-combat condition, said that accusing a soldier family of the murders, suicides and violence in the army is the popular method of Armenia's Defense Ministry. "A soldier family is guilty for the murders and violence. Why didn't Grigoryan cross to Azerbaijan before his military service? Why did he take such a step while serving in the army? If the Ministry of Defense really thinks so, why don't they check a draftee's family situation in advance?"
Irina Ghazaryan said that anyhow Grigoryan's family is in a difficult situation now and Ohanyan further complicates their situation with this statement of him.
Nana Muradyan spoke about the murder of Artak Nazaryan: "We have not forgotten that incident. He was a lieutenant; however he wasn't protected with it. His case wasn't investigated fairly and we do not know the cause of his death yet."