20.02.2014 | 16:26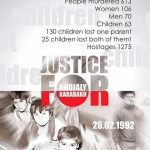 Top personalities of Pakistan including academia, media personalities, former ministers, law makers and other prominent citizens belonging to various walks of life have called for peaceful resolution of Nagorno-Karabakh conflict between Azerbaijan and Armenia. They strongly condemned the 1992 Khojaly Genocide by the Armenian forces in which hundreds of innocent civilians were butchered.
Over hundred leading personalities of Pakistan have supported a statement, drafted by Mr. Zahid Malik, Editor-in-Chief, Pakistan Observer in line with consistent policy of the newspaper to support Azerbaijan's position over Nagorno-Karabakh conflict and condemn Khojaly Genocide.
Following is the text of the statement calling for peaceful and just resolution of the Nagorno-Karabakh issue, condemning Khyojaly Genocide .
Soon after collapse of the USSR Armenia started open aggression against newly born Azerbaijan Republic and occupied 20% of Azerbaijani lands, including Nagorno- Karabakh and 7 adjacent districts. The capture of Khojaly town was particularly tragic. The town with no regular Azerbaijani forces in it was entirely surrounded by Armenian troops. Over the night from the 25th to 26th of February 1992, Armenian forces with support of infantry regiment of the former Soviet Army stormed Khojaly. In a few hours time 613 civilians, including 83 children and 106 women were killed. 56 of them were killed with outrageous brutality, 8 families were totally exterminated, and 25 children lost both parents while 130 children lost one parent. Thousands of civilians were wounded and taken hostage, many of them remain missing, while the town was razed to the ground.
In its judgment of 22 April 2010, the European Court of Human Rights qualified this massacre as "acts of particular gravity which may amount to war crimes or crimes against humanity". It is obvious, that given the gravity and scale of the offences committed in Khojaly, criminal prosecution of those who were behind it would be inevitable.
The UN Security Council passed 4 resolutions that called for immediate, complete and unconditional withdrawal of forces from all occupied lands of Azerbaijan. The UN General Assembly, OIC, Non-Aligned Movement, European Union, Council of Europe, NATO and OSCE also passed resolutions on Nagorno-Karabakh conflict. All these resolutions remain unimplemented.
On 1 February, 2012 a resolution recognizing Khojaly Genocide and calling upon the international community to bring the perpetrators of this crime to the book and on 05 October, 2013 another resolution fully backing territorial integrity of Azerbaijan were passed at the Senate of Pakistan. A number of countries and prestigious international organizations have also adopted resolutions and proclamations condemning the Khojaly Genocide.
People of Pakistan condemn continued illegal occupation of Nagorno-Karabakh and other territories of Azerbaijan by Armenia and call for a just and peaceful resolution of the problem on the basis of UN Security Council resolutions. We urge the international community to take notice of the Nagorno-Karabakh issue and help in resolving it in the name of Peace. Pakistani people believe that world peace would remain in danger till such international burning issues as Nagorno-Karabakh, Kashmir and Palestine are resolved justly and peacefully in accordance with relevant United Nations resolutions.
http://pakobserver.net/detailnews.asp?id=234114