22.11.2013 | 15:49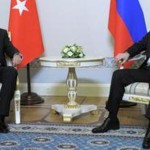 It was announced by Turkish Prime Minister Recep Tayyip Erdogan at a meeting of the Turkey-Russia High-level Cooperation Council.
Following talks in a narrow format, Russian President Vladimir Putin and Prime Turkish Minister Recep Tayyip Erdogan discussed the situation in Syria and Nagorno-Karabakh problem.
"There are basic steps that we must take, and the talks that we held on these topics allowed us to create a platform and a base for resolving the issues," Erdogan said at a meeting of the Council.
"I believe that Russia and Turkey have obligations in the region from the standpoint of Azerbaijan-Armenia conflict, situation in Syria and development of the situation in Iraq," Erdogan noted.
News.az