15.09.2012 | 08:51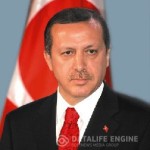 There can be no question about the opening of our borders with Armenia as long as the Nagorno-Karabakh conflict is not solved and the issue of one or two regions is not settled.The statement came from Turkish Prime Minister Recep Tayyip Erdogan at a joint press conference with Azerbaijani President Ilham Aliyev, Gun.Az reports.
He noted that this is the word they have always said during the stay in the government.
"We cannot make such a step. All the steps that we will make have this goal: Armenians must withdraw from the currently occupied lands. Despite the fact that international structures say "This place is Azerbaijan", these lands have not been returned to their just owners, and it brings forth our position clearly and precisely.
Our position regarding Armenia will continue to be as it is now. As a party interested in this process, we will continue to always be with Azerbaijan."