21.01.2013 | 17:09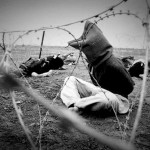 Dear readers, we are going on presenting you Esmira Orjova's book named "Release us from captivity" part by part.
The kept of captive Azerbaijan citizens in invaded Azerbaijan territories and in Armenia as a result of annexationist politics of Armenians, the witness stories which affirm that captives were exposed to torture and 
agonies, also the facts collected due to the documents composed by international organization and representatives of opposite side are presented in the book to readers.
Abdullayev Fakhraddin Saday oglu
Abdullayev Fakhraddin Sa­day oglu was born in Alekse­yevka village of Khachmaz dis­trict of Azerbaijan Republic in 1972. On the 16th of October, 1993 he was mobilized by the Military Registration and En­listment Office of Khachmaz district and then he was sent to fight for Aghdam district. On the 12th of April, 1994 during the fight for Merzilli village of Aghdam Fakhraddin was taken prisoner.
His mother Abdullayeva Aziza Mustajab gizi who lived in Alekseyevka, searched for Fakhraddin and found out that during the fight for Merzilli village of Aghdam, her son was taken prisoner and kept in Shusha town.
His brother Abdullayev Elshad Saday oglu who lived in Alekseyevka village of Khachmaz district wrote a statement that he found out from Fakhraddin's front-line comrades, he was missed at last fight. A signaler (he forgot his name) from a military unit in Laki village of Aghdash district connected with Armenians by radio communication and informed that Fakhraddin was kept as a prisoner in Shusha town. Later he tried again to connect with Armenians but it was impossible.
Abdullayev Ibrahim Mehdi oglu was born in Seyidler vil­lage of Lachin of Azerbaijan Republic in 1974. On the 18th of May, 1992 during occupa­tion of Lachin district he was taken hostage by Armenians.
According to the informa­tion of Murtuzov Tapdig Murtuz oglu who lived in Chovdar village of Kelbajar district and returned from Armenian captivity (now he lives in Yevlakh), when he was kept in Khankandi kindergarten, he saw Abdullayev Ibrahim from Lachin district there.
It was known from a statement of his son Abdullayev Mehdi Ibrahim oglu who lived in Seyidler village of Lachin district (now he lives in Sumgayit town, Z.Tagiyev settle­ment, Kosmonavt Street, 11, app.10), on the 18th of May, 1992, his father Abdullayev Mehdi Ibrahim oglu with Husuyev Vusal who lived in Pirjahan village observed burned houses in the enterance of Lachin. At that moment a car «Jiquli» came up to them from Kelbajar. When Vusal understood that they were Armenians, he ran away but Ibrahim Abdullayev was taken hostage and sent to Khankandi. Mehdi who lived in Kelbajar dis­trict (now he lives in Yevlakh town) showed his picture to Tapdig and he recognized him. He said that Ibrahim kishi died at Armenian captivity
Abdullayev llham Bayram oglu was born in Miresheli vil­lage of Aghdam district of Azerbaijan Republic in 1973. On the 10th of December, 1992 during the fight for Gazanchi village of Zangilan district he was taken prisoner. According to the information of Bakhsha-liyev Alikhan Atakhan oglu (he lives in Udulu village of Hajigabul district) llham with front­line comrades M.Mehiyaddinov and B.Tagi-yev fought and defended Gazanchilar village
till the bullets were over, llham was wounded and stayed at the battle field.
Huseynov Akif Saleh oglu who lived in Asrik-Chirdakhan village of Tovuz district got a list of Azerbaijani prisoners of war and hostages from Alaverdiyan Shamir (Yere-van-74, Nijniy Shengavit Street, 35, app.22, phone: 48-67-93); there was the name of Abdullayev llham in the list. It was shown that he was kept in Upper Garabagh.
Abdullayev Ramin Habib ogluAbdullayev Ramin Habib oglu was born in Urut village of Sisiyan district of the Republic of Armenia in 1956. Because of known events he moved into Azerbaijan. In November of 1991 he voluntarily went to the front and took part in fights for
Khojavand district. On the 26th of January, 1992 during Dashalti village of Shusha dis­trict he was taken prisoner.
According to the information of his wife Abdullayeva Elianora, during the fight in Dashalti village he was taken prisoner by Armenians on the 27th of January, 1992.
Muradov Alik Fuad oglu who lived in Dagh-Kesemen village of Agstafa district wrote a statement that when he was engaged in change of prisoners and hosta­ges, Armenian representatives Ashot Makaryan and Samvel Megralyan gave him a list of Azerbaijani prisoners of war and hostages, there was the name of Abdullayev Ramin Habib oglu in the list. It was shown that he was kept in Asgaran town