22.03.2014 | 07:25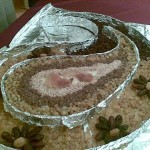 Azerbaijan cuisine is one of the oldest, richest and most delicious in the world. Azerbaijan culinary doesn't only consist of meals and their preparation technology, but also the main part of our material culture. The fame of Azerbaijan cuisine was well- known all over the world, especially Karabakh cookery is considered the first hotbed of Azerbaijan culinary culture. It has always been admired by everyone with its unique taste. The meals belonging to Karabakh has been paid much attention to by other states. Ever since Soviet Union reign, the names of 15 most popular meals have been stolen from Azeri cuisine and armenianized. It should be mentioned that more than half those meals belong to Karabakh culinary.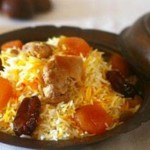 Armenians have eyed not only Karabakh territory, but also its culture and cuisine. They have wanted to own tens of our meals. Besides they have presented the traditional Karabakian meals by their own names. But it has always been a dream for them. A book titled "Karabakh cuisine" has been published under the organization of the Azerbaijan National Cookery Association. In this book the names of the meals belonging to Karabakh region have been mentioned. The names of old Karabakh meals, the way of their preparation have been printed in that book. "I enjoyed the research of Karabakh cuisine" Recently the famous American international expert Emi Rayolo has written a book titled "Karabakh cuisine-the traditions of recipes, memories and cookery from Azerbaijan culture". Emi Royola claimed that he had written that book by the request of Karabakh Foundation in Washington. According to him Karabakh has very rich culture: "The research and managed to combine to pieces of information about all aspects-poetry, music, knitting ect. This book is the origin of pride for me".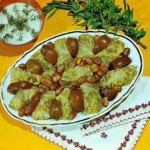 "Armenians have neither tide nor taste" Well-known chef Mehman Huseynov spoke to "KarabakhINFO.com" international e-journal about Karabakh cuisine. He knew that Karabakh cuisine is very rich. According to M. Huseynov's words, the name of Karabakh cuisine has made a noise in the world: "It should be admitted that Azerbaijan cookery has always been distinguished among world cuisines. Foreign citizens have always highly appreciated Azerbaijan meals. When we attend international contests, we prepare meals belonging to Karabakh cuisine. We let the whole world know that Karabakh is the heart of Azerbaijan. Armenians have occupied Karabakh. The enemies have invaded not only our lands, but only our culture. Armenians have always admired our cuisine. They have tried to cook our meals, but they have neither tide, nor taste. In 2005 a competition was held among chefs in Moscow. In that competition an Armenian chef was also present. The chef claimed that "yarpag dolmasi" was their old national meal. But I proved that it was old Azeri meal. In the competition I and the Armenian chef cooked "yarpag dolmasi" . My dolma was liked by everyone and I beat the Armenian chef. The dolma cooked by the Armenian chef was very untidy and tough. None of the participants liked it".M. Huseynov mentioned some old Karabakh meals. According to his information, Karabakh has very nice pilafs: "I'm trying to explain the preparation rule of the meals belonging to Karabakh region when I'm on TV. My goal is to let everyone know about Karabakh cuisine.
Gunel Jalil
"KarabakhİNFO.com"