25.05.2013 | 12:05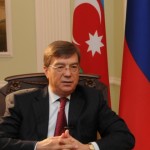 "Russia is ready to continue organizing new meetings for bringing closer the positions of the sides in the settlement of Nagorno Karabakh conflict", said the Russian Ambassador to Azerbaijan Vladimir Dorokhin..
According to him, Russia was the mediator of several meetings between the civil society representatives and intellectuals of the conflicting parties: "A special representative was appointed for this. This is the special representative of Russian President on international and humanitarian relations Mikhail Shvidko."
The ambassador stressed that they consider it an important and useful work to organize meetings: "We are ready for it and the sides must also be ready. We are glad that the Azerbaijani side is ready," he said.
apa.az